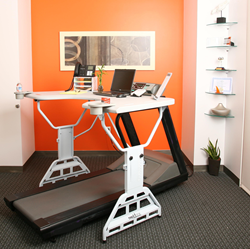 Study subjects who were the most fit at the beginning and at the end of the testing period scored much higher on the cognitive tests than their less fit peers.
Scottsdale, AZ (PRWEB) June 02, 2014
A new study published in the journal Neurology (http://bit.ly/1oo7Pdt) found that the more physically active an individual is during their mid-twenties the better their cognitive abilities will be when they reach middle age. Unfortunately the nature of work has become increasingly sedentary, confining workers to cubicles for a large portion of their work day. TrekDesk treadmill desk offers a unique solution to the problem.
This collaborative study from U.S. and international universities analyzed results from data collected since the mid 1980's in the Cardia (Coronary Artery Risk Development in Young Adults) study. Thousands of study subjects aged 18 to 30 were evaluated initially and tracked for blood profiles and other measures of heart health. They were also given treadmill fitness tests at the start as well.
Twenty five years from their initial tests (now aged 43 to 54) they were administered the same treadmill tests to evaluate changes in fitness levels. On average their levels declined by 30%. In addition they were given a battery of cognitive tests measuring memory and executive function.
The results should serve as a wake up call to all sedentary individuals regardless of age. Study subjects who were the most fit at the beginning and at the end of the testing period scored much higher on the cognitive tests than their less fit peers. Researchers further stressed that these differences could become even more profound as the study subjects aged.
Better late than never. The researchers were also able to verify that study subjects who were less fit in their 20's but increased their fitness levels later into middle age also improved their cognitive abilities.
Scientists are not certain as to the exact reasons why inactivity and poor health habits lead to cognitive decline at this point; however, they are adamant that fitness needs to start at an early age and continue throughout life for optimum mental abilities.
"Studies have previously shown cognitive increases of as much as 15% in as little as 6 months among 65 year old test subjects, it is never too late to get started," stated Steve Bordley, CEO of TrekDesk Treadmill Desk. "The facts are simple – sedentary lifestyles accelerate physical and mental declines as well as a host of critical diseases. Our current recommendations for physical activity should be changed to reflect a prevention of sedentary hours during each and every day as well."
Designed to fit any existing treadmill TrekDesk treadmill desk is an affordable, full sized, height adjustable workstation that allows individuals the opportunity to gain the necessary amount of daily exercise to lose weight, maintain health, reduce stress, prevent disease, strengthen muscles, boost mood and productivity, without requiring additional time during the day or extra motivation.
Join the TrekDesk "Movement Revolution" to learn more, spread the gospel regarding movement, or win a free TrekDesk - http://www.facebook.com/trekdesk, or follow TrekDesk on twitter http://www.twitter.com/trekdesk. TrekDesk treadmill desk is currently available for sale online at http://www.trekdesk.com.