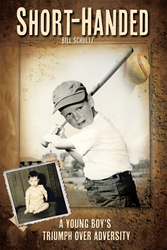 My message is a positive one, a 'pro-encouragement' message. People need to hear more of the positive, particularly young people
Milwaukee, Wis. (PRWEB) June 04, 2014
While physical disabilities can bring a world of stressors of its own, when coupled with bullying a person can feel utterly defeated, Though it is not easy, through positive reinforcement and encouragement there is hope for a change to put an end to the abusive treatment of others.
Bill Schultz has not known a day without severe deformities; however, when strangers would look at him differently, he knew he could turn to his family and friends for encouragement and support. To share the tumultuous journey he and his family experienced. Schultz has documented his life's trials and successes in "Short-Handed: A Young Boy's Triumph Over Adversity."
His memoir speaks to readers who understand the most difficult obstacle of living with disabilities is building the self-confidence to face uncomprehending peers and teachers. Schultz illustrates that feelings of acceptance from his friends and parents propelled his life successes and allowed him to disregard those who did not believe in him.
"The trend in schools and society right now is to deliver 'anti-bullying' messages, hoping it will stop that type of behavior," Schultz said. "My message is a positive one, a 'pro-encouragement' message. People need to hear more of the positive, particularly young people."
His positive outlook enabled him to be active in many sports ranging from baseball to golf, participate in his college glee club and manage multiple sports teams in high school and college. Schultz hopes that his story can encourage others to reach for their goals and surpass conventional limitations.
By: Bill Schultz
ISBN-10: 1490826432
ISBN-13: 978-1490826431
Available at Amazon, Barnes and Noble and WestBow Press online bookstores.
About the author
Born with deformities to both arms and legs, Bill Schultz pushed through the physical and often emotional hardships to pursue his education at Rutgers University and career with General Electric upon graduation. Schultz helped start three church ministries, is a Little League coach, volunteers at the American Family Children's Hospital in Madison, Wis. and is the owner of an executive search firm specializing in the recruitment of sales professionals. He is married to his wife, Kathy, has two children, and two grandchildren.
# # #