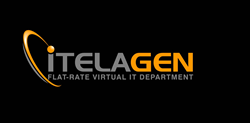 Jersey City, NJ (PRWEB) June 03, 2014
ITelagen, Inc., a leading, innovative provider of IT and EHR support and EHR cloud-based hosting for healthcare, announces that they will be exhibiting at the 9th Annual NextGen Healthcare Arizona Client Exchange.
The Annual NextGen Healthcare Arizona Client Exchange is being held this year at the Sheraton Wild Horse Pass Report and Spa in Chandler, Arizona on June 13, 2014 from 8am to 5pm. Agenda topics include NextGen® Practice Management: Version Highlights, NextGen® Ambulatory EHR and NextGen® KBM: Version Highlights, Interoperability, Meaningful Use, Best Practices and Revenue Cycle Management. The event is expecting to attract close to 300 NextGen users from medical practices in the southwest, an increase in attendance from years past.
Gary Havercamp, Regional VP of Sales for ITelagen, says, "As a preferred NextGen Partner, it is imperative that we support the Arizona Client Exchange. Our NextGen Support and Services are much valued additions to any medical practice, and the IT Support and Hosting we offer is hands-down the most successful when utilizing NextGen Systems. At the Exchange, we will educate and network, as these ingredients are not only key to our fundamental business, but our services are an essential part of our client's success with NextGen."
ITelagen is also a leading provider of healthcare IT support and system administration and provides a range of IT and EHR support services including professional services, training, and hosting. ITelagen provides unlimited onsite and remote technical support for businesses, and the platform monitors the activity of servers 24/7 to ensure the security of client applications. Its cloud-based system supports and manages patients' EHRs, as well as assists with coding and billing records, medical and insurance claims, and categorizing insurance collections. ITelagen also provides disaster recovery, and related services to update and back up data.
About ITelagen:
ITelagen® redefines Healthcare IT for medical practices by providing electronic health records (EHR) as part of an entire back-office solution that includes unlimited onsite & remote technical support for all of your staff and secure hosting of your patient data. We are more than just desktop technicians, but a complete healthcare technology team made up of CIO's, engineers, and healthcare EHR experts. With ITelagen, you can have all the benefits of your very own fully-staffed IT Department, without the expense of an in-house staff. By combining certified EHR experts with IT and hosting, ITelagen becomes the single point of contact and "One-Stop Shop for EHR®" for IT and EHR infrastructure, all for a flat monthly subscription fee. For more information, visit ITelagen on the Web at http://www.itelagen.com. Follow ITelagen on Twitter at https://twitter.com/ITELAGEN, Facebook at http://www.facebook.com/itelagen, or LinkedIn at http://www.linkedin.com/company/itelagen.
Contact:
Emile Ondrus
ITelagen, Inc.
201-239-8405
press(at)itelagen(dot)com