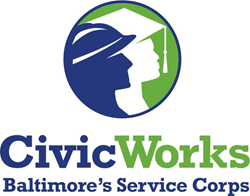 By directly providing Baltimore communities with produce from our Mobile Farmers Market, Civic Works' Real Food Farm is creating affordable ways for residents to access fresh food.
Baltimore, MD (PRWEB) June 05, 2014
Civic Works' Real Food Farm was filmed by NBC's Weekend TODAY as part of the "Shine a Light" outreach project, a year-long initiative focused on service and giving back to communities in need. As part of the "Shine a Light" series, Weekend TODAY anchors are highlighting the importance of healthy living as well as ways in which communities can make healthy choices, using Baltimore as the model.
Erica Hill, Weekend TODAY co-anchor, visited Civic Works to talk about food deserts and how Real Food Farm's Mobile Farmers Market is addressing this issue. Hill interviewed Mobile Market Assistant and AmeriCorps participant Davon Baynes, who explained, "A food desert is a community where people do not have high quality grocery stores, and can't find affordable, healthy food within walking distance. Most people don't have reliable transportation to reach stores that are further away." The Mobile Farmers Market is one solution to this issue, because produce is delivered directly to residents through weekly markets and home deliveries. Civic Works' Real Food Farm has partnered with schools, senior centers, residential complexes and other community gathering spaces to reach residents in need.
The Weekend TODAY crew filmed the Mobile Market team loading up sustainably grown fruits and vegetables harvested that morning from Real Food Farm and other local farms. The TODAY crew then followed the truck to several different neighborhoods and spoke with residents at each stop. Customers paid for produce with a variety of payment methods, including cash, credit card, debit card, check and food assistance benefits. Keeping produce affordable is a core part of Real Food Farm's mission. In fact, the Mobile Farmers Market offers "double dollars" to customers paying with food assistance benefits so that those customers can receive twice the amount of produce for their dollars. Payments via food assistance benefits comprise approximately 30% of Mobile Market sales.
The Mobile Farmers Market served over 2,000 Baltimore residents in 2013, and demand is increasing. In addition to serving residents, Civic Works' Real Food Farm provides both job skills training and volunteer opportunities. The Real Food Farm team consists primarily of AmeriCorps participants, who earn a stipend as well as an education award while gaining valuable skills in agriculture and commerce. The farm also engages the community through a variety of programming, including youth education programs, workshops on farming topics, and open volunteer hours that encourage urban agriculturists.
"We are incredibly honored that Weekend TODAY has chosen to showcase Civic Works' Real Food Farm as one solution to food deserts, a pervasive problem in Baltimore and throughout the United States," stated Dana Stein, Executive Director of Civic Works. "By directly providing Baltimore communities with produce from our Mobile Farmers Market, we are creating affordable ways for residents to access fresh food. And often, we are starting a very important conversation with residents about healthy eating."
The segment is scheduled to air on Sunday, June 8th.
About Civic Works
Civic Works is Baltimore's urban service corps and an AmeriCorps program. Our mission is to strengthen Baltimore's communities through education, skills development, and community service. Civic Works AmeriCorps participants tutor and mentor students, create community parks and gardens, help homeowners conserve energy, grow food for low-income residents, rehabilitate abandoned houses, involve families in Baltimore City schools, make homes safer for older adults, and recruit volunteers. Civic Works also trains Baltimore residents for employment in the healthcare and green job industries. For more information, please visit http://www.civicworks.com.
About Real Food Farm
Real Food Farm is Civic Works' innovative urban agricultural enterprise engaged in growing fresh produce on eight acres of land in and around Clifton Park in northeast Baltimore. Real Food Farm works toward a just and sustainable food system by improving neighborhood access to healthy food, providing experience-based education, and developing an economically viable, environmentally responsible local agriculture sector. For more information, please visit http://www.realfoodfarm.org.
For information about Civic Works:
Dana Stein, Executive Director
(410)-366-8533
dstein(at)civicworks(dot)com