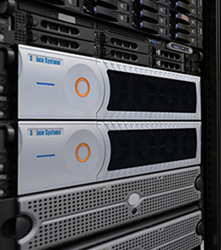 Solace makes it easy for us to manage our big-data applications, adapt to the company's changing needs, and deploy new services to optimize the Myspace customer experience.
Ottawa, Ontario (PRWEB) June 03, 2014
Solace Systems announced today two new message routers and a major new version of its operating system, SolOS 7.0, that together meet the diverse data movement demands of today's enterprise applications and emerging big data systems, cloud computing architectures and internet of things initiatives.
Each of these systems needs an efficient way to move large amounts of information over different kinds of networks with unique requirements in terms of latency, throughput, guaranteed delivery, fault tolerance and more. Solace's hardware-based platform lets companies replace a wide range of discrete data movement technologies (such as messaging middleware, open source, web streaming, transaction management, WAN optimization, etc.) with a powerful application-aware network. Application aware-networks make it easier and less expensive to move data between applications while offering greater capacity, performance and robustness than other solutions.
The 3500 series of message routers includes the Solace 3560, which sets a new standard for large-scale data movement between applications, and the Solace 3530 which cost-effectively meets the needs of smaller companies, individual departments and remote datacenters. Solace also announced version 7.0 of the SolOS firmware that controls the behavior and operation of Solace message routers.
"At Myspace, it's critical that we have strong infrastructure in place to handle data and make the best use of content we receive from labels and artists," said Linh Chung, Chief Information Officer at Myspace. "Solace makes it easy for us to manage our big-data applications, adapt to the company's changing needs, and deploy new services to optimize the Myspace customer experience."
Here are some of the improvements associated with the new 3500 series message routers and SolOS 7.0:

The Solace 3530 and Solace 3560 are modular 2U devices that can accommodate 6 and 8 hardware blades, respectively. Companies can equip the message routers to meet their needs today, then increase capacity and functionality over time without increasing the physical footprint of their infrastructure. When compared with Solace's previously top-of-the-line Solace 3260, which is 4U, the 2U Solace 3560 more than doubles the number of messages per second per rack unit.
The Solace 3530 and Solace 3560 message routers consume less power than corresponding 3200 series appliances – 20% and 25% respectively.
The Solace 3560 supports 450,000 guaranteed messages per second, and fan-out rates up to 1.6 million guaranteed messages per second.
The Solace 3560 supports up to 200,000 simultaneous connections for web messaging, and 9,000 for LAN and WAN messaging within the enterprise.
The Solace 3560 supports non-persistent fan-out rates as high as 24 million messages per second with latency reductions of 15-50% depending on message rates and sizes.
SolOS 7.0 introduces patent pending improvements to Solace's unique handing of slow consumers to avoid the disruptions commonly seen in other messaging systems.
SolOS 7.0 improves Solace's industry-leading robustness by advancing its fault tolerant architecture, and offering fully-integrated disaster recovery functionality.
"Our new message routers and operating system dramatically increase the capacity, performance and robustness of our platform – three critical elements of our strategy to enable seamless communications between all kinds of applications with any quality of service," said Shawn McAllister, CTO at Solace Systems. "As more of our customers implement next-generation architectures for projects like big data consolidation, cloud integration and the Internet of Things, these improvements position Solace as the best possible infrastructure for all types of data movement."
The Solace 3560 and Solace 3530 are both available now. All hardware blades and firmware revisions will continue to be advanced across the 3200 and 3500 product lines, and models from both lines are fully compatible and interoperable with seamless management and monitoring.
About Solace Systems
Solace enables application-aware networks with its message routers that improve the way information moves between distributed applications. High-speed, reliable information sharing is an essential part of virtually all modern IT initiatives from accelerating legacy business processes to enabling big data, cloud computing and the Internet of Things. Solace message routers unify many kinds of data movement so companies can efficiently and cost-effectively move all of the information associated with better serving customers and making smarter decisions. Solace is a leading provider of application-aware networking equipment, with a rapidly growing customer base that spans all major industries. To learn more visit http://solacesystems.com.