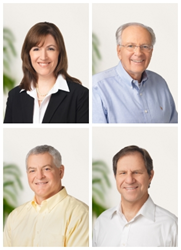 Columbus, Ohio; Phoenix, AZ (PRWEB) June 03, 2014
FacilitySource, the world leader in facility maintenance management for geographically dispersed real estate portfolios, is pleased to announce the appointments of Robert Berg, Mark Strayer, Robin Williams, and Hal Korff to the leadership team.
Industry veteran Robert Berg has joined the FacilitySource management team as Vice President of Janitorial Operations. Berg has an extensive retail janitorial and facility management background, previously managing over $151M in assets, and was awarded the National Association of Industrial and Office Parks award for Best Managed Park in Tampa Bay, Florida.
"Robert's expertise in janitorial operations is exactly what FacilitySource needs to expand our service offering to our clients," said Bill Hayden, FacilitySource CEO.
Berg earned a Bachelor of Science from the University of Tennessee, and attended the University of Tennessee College of Law for two years. He is recognized as a Certified Property Manager from the Institute of Real Estate Management Association.
FacilitySource welcomes Mark Strayer to the role of Vice President of Exterior Services. Strayer will be responsible for expanding FacilitySource's Exterior Service product offering with an emphasis on snow and ice management, landscaping, parking lot maintenance and sweeping product lines. Strayer comes to FacilitySource from The Brickman Group where, during his tenure as Executive VP and General Manager of Brickman Facility Solutions, he led their national facility management business.
Strayer earned a Bachelor's Degree from Ohio University and a Master's degree from Central Michigan. Mark is a past member of the Accredited Snow Contractors Association Industry Standards Board and was recognized for his role in developing the initial ISO 9001 standard for the snow and ice management industry.
"Exterior Services is an enormous growth opportunity for FacilitySource, and someone with Mark's experience in facility solutions is exactly what we need to ensure we provide a superior service offering to our clients," said Hayden.
Additionally, Robin Williams joins FacilitySource leadership in the role of Director of Client Services. Williams, formerly a Vice President at JPMorgan Chase, has extensive management experience specializing in client relationships and employee development. Williams is versed in employee relations, negotiations and risk mitigation and will be joining the Client Services organization under the leadership of Duane Smith.
Having successfully led several client services divisions across a variety of organizations, William's experience will be vital to FacilitySource's commitment to customer service. Duane Smith, FacilitySource Vice President of Client Services , commented, "We are thrilled to welcome someone with Robin's proven track record in successfully managing and growing client accounts onto the FacilitySource management team".
Finally, Hal Korff has joined FacilitySource as the Director of FacilitySource's Project Management Office (PMO). Korff will focus his efforts on managing a project delivery team whose mission is to efficiently and effectively deliver a complex portfolio of client and internal-development projects in an agile fast-growth environment. Korff joins the technology team at FacilitySource under the leadership of Sunil Padiyar, CTO.
Korff comes to FacilitySource from the Apollo Group where he was a Program Director supporting strategic initiatives for the Academics department at the University of Phoenix. Prior to that, Korff managed project managers and PMOs in four industries – aerospace, ecommerce, digital marketing, and non-profit in addition to holding technical, consulting, and management positions in IT, Engineering, Marketing Analytics, and Quality Assurance.
Korff earned a Bachelor's Degree from Ottawa University and has a Project Management Professional certification from the Project Management Institute. Korff serves as the VP of Professional development on the board of PMI's Phoenix Chapter and is a member of the Society of Information Managers.
"FacilitySource's Project Management Organization needs someone with Hal's experience in order to execute complex programs flawlessly. We are thrilled to see continued improvement in that area under Hal's management," said Padiyar.
About FacilitySource
FacilitySource delivers customized facility management solutions to over 65,000 mall-based and non-mall-based retail and restaurant locations in the U.S. and internationally. Now with over $2B in annual spend management, FacilitySource provides its clients with knowledge from the industry's largest facility maintenance platform, best-in-class service through an Elite Network of service providers, proprietary technology that gives real-time access to the client's own facilities environment as well as to industry benchmarks, and a flexible approach that enables clients to optimize their brand, customer experience and facilities maintenance budgets. For more information, visit http://www.facilitysource.com.