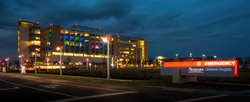 Sarasota, Fla. (PRWEB) June 03, 2014
Voalte, the leader in healthcare communication technology, today released its latest case study featuring Nemours Children's Hospital in Orlando, Florida, which explores the impact of text messaging and integrated alarms on noise levels and patient satisfaction.
According to the case study, Nemours Children's Hospital equipped its new, state-of-the-art facility with more than 100 Voalte smartphones. The hospital selected Voalte after identifying a need for quiet, quick and efficient communication between caregivers. With Voalte in place, caregivers are able to make voice calls, receive alarms and alerts, and send and receive secure text messages.
"Voalte One™ supported our ability to quickly send communications in a quiet way via text messages, and allowed the caregiver to respond when it was an appropriate time rather than interrupting patient care," said Barbara Meeks, Chief Nursing Executive at Nemours Children's Hospital.
In addition to efficient communication, Voalte One users can receive nurse call alarms directly to their smartphones. As a result, the facility uses overhead paging only in the event of an emergency, which drastically reduces noise levels. The Voalte platform also works in conjunction with the hospital's Logistics Center, a high-tech communication hub that monitors patient vital signs and escalates alarms to secondary caregivers if the first nurse rejects the alarm.
"Voalte provided a great ability to leverage our existing technologies and yet provide functionality similar to what folks use in their everyday life," said Bernie Rice, Chief Information Officer at Nemours Children's Hospital. "The use of texting has been overwhelmingly well-received by our nurses and staff."
To download the full case study, please visit the Voalte case study library.
About Nemours
Nemours (NAH-mors) is an internationally recognized children's health system that owns and operates the Alfred I. duPont Hospital for Children in Wilmington, Delaware, and the Nemours Children's Hospital in Orlando, along with major pediatric specialty clinics in Delaware, Florida, Pennsylvania and New Jersey.
Established as The Nemours Foundation through the legacy and philanthropy of Alfred I. duPont, Nemours offers pediatric clinical care, research, education, advocacy and prevention programs to all families in the communities it serves. For more information, visit Nemours.org.
About Voalte
Voalte develops smartphone alternatives that simplify caregiver communication. As the only company to offer a comprehensive Mobile Communication Strategy, Voalte enables care teams inside and outside the hospital to access and exchange information securely. Voalte customers benefit from a solid smartphone infrastructure that supports their existing systems and expands to accommodate future technologies.
Founded in 2008, Voalte is a privately held company based in Sarasota, Florida. Over 35,000 caregivers use Voalte products every day. For more information, visit voalte.com or follow @Voalte on Twitter.