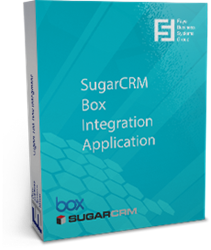 Woodland Hills, CA (PRWEB) June 03, 2014
Known for their innovative integrations with SugarCRM, one of the world's fastest growing CRM software packages, SugarCRM Platinum Partner FayeBSG recently unveiled their newest product, the FayeBSG SugarCRM Box Integration.
FayeBSG will be hosting a webinar of their Sugar Box integration on Wednesday, June 18th at 10:30 AM PT.
Click here to attend this event.
The FayeBSG SugarCRM Box Integration Application can manage, access, and share any amount and type of file on Box within Sugar, ensuring sales teams have the most up-to-date materials. Users can also create shared workspaces within Sugar to collaborate with colleagues, partners, and customers. In addition, sales people can email files, edit documents, fax agreements, and sign contracts within Sugar. The integration can map any field in a Sugar record to the corresponding Box folder.
In short, it's Box, inside Sugar.
FayeBSG integrations allow companies to utilize best-in-class software without missing out on critical integration components. FayeBSG are software and technology specialists with over 25 years of expertise in CRM and ERP software. Faye's in-house team of developers and consultants work on an ongoing basis to not only develop the most sought after Sugar integrations, but also to consistently upgrade and update the integrations for optimal performance, and to add user requested features. The integrations are well thought-out, consist of the most complete operational functions and are very popular among Sugar users.
Click here to attend this event.
About Faye Business Systems Group
Faye Business Systems Group is a Southern California-based technology consulting firm and Software Company with over 25 years of experience helping growing companies become more profitable by working with them to optimize their financial and business systems. FayeBSG uses SugarCRM, Sage 100 ERP (formerly MAS 90), Intacct, and a variety of custom software solutions to meet client needs. Services include software development, project management, packaged software implementations, custom software implementations, integration, consulting, training, and support. Faye Business Systems Group has completed hundreds of successful CRM projects, specializes in Sugar Integration, and is one of SugarCRM's leading North American Platinum Partners. For more information, call (818) 280-4820, email info(at)fayebsg(dot)com, or visit http://www.fayebsg.com. Connect with Faye Business Systems Group on LinkedIn, Facebook, Twitter or YouTube.
Press Contacts:
Jesse Heller
Faye Business Systems Group, Inc.
818 280 4827