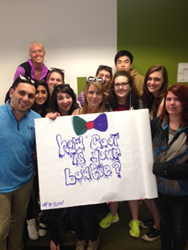 Des Moines, Iowa (PRWEB) June 02, 2014
Using the time limit of Vine-style videos, Mygooi.com and Des Moines networking guru Danny Beyer are offering a bow tie a month for a year to the fastest tie tiers. Mygooi, based in Des Moines and Chennai, India, announced there will be three contests—one each for men, women and children – and that six-second looping-video entries should be submitted by direct message to Mygooi's Facebook page (https://www.facebook.com/mygooi).
In addition to the three winners, everyone entering who finishes within the six seconds will receive one bow tie (while supplies last), says Mygooi CEO Paul N. Greenwood.
A person tying for an animal or plant will be the entrant. Entries, consisting of your video, the contest you're entering and contact information, should be submitted by Saturday, June 21.
Beyer, who set up his Bow Tie Wednesday Facebook page in late 2012, tried the challenge and finished his first effort within the time limit. "This will be a lot of fun," he said. "We'll gooify the whole bow-tie-wearing community." His video is on Mygooi's page and his (https://www.facebook.com/BowTieWednesday), which he set up in December after a friend emailed a photo of himself wearing a bow tie to Beyer joking, "It's Bow Tie Wednesday. Are you wearing a bow tie?" He was, they laughed and posted the picture on Facebook. More than 100 likes later, the page followed.
In the last 17 months, the page has posted hundreds of pictures of bow-tied beings and about 1,000 likes from around the world. It also inspired the Bow Tie Ball, a charity gala held last fall in West Des Moines that raised $7,000 for Variety, a local children's charity. The second annual gala will be Sept. 25, 2014. "We already have $13,000 in sponsorships," Beyer notes. "It's gooi that a couple of pictures of a couple of guys wearing bow ties has already led to hundreds of likes and $20,000 for charity."
Beyer says, "Mygooi encourages networking that is disruptive and unconventional, and grows organically. It builds connections by moving people out of their comfort zones, rebuilding communities for mutual benefit. People become exuberant. They become gooi."
GooiNation has embarked on a world tour, which has brought gooi networking to a range of cities in the U.S., the Netherlands, Germany, France, the United Kingdom, Spain, India and China. It will debut its latest mobile platform shortly through the Apple App Store and Google Play.
"We're looking for, and encouraging, companies that are breaking boundaries," said Greenwood. "We're asking GooiNation: 'What do you think is gooi? What businesses do you love?' It's what we love, not what we like, that is gooi, and anyone can be gooi. It's diverse and limitless and the brand networking of today. It's a destination that's what you want it to be, where you want it to be."
About Mygooi
Mygooi™ is an energetic brand platform that is digital, creative, disruptive and global. Its mission is to Go Where The Life Is.™
See Mygooi updates and watch GooiNation grow on Facebook at https://www.facebook.com/mygooi.
Visit our new website and download the app upon release at http://www.mygooi.com.
# # #
Media Contacts:
Kyle Eason, Media Relations, US
Mygooi
641-840-9518 / Kylee(a)mygooi(dot)com
Mark Perlman
Mygooi
312-315-0707 / Markperlman55(at)msn(dot)com
Richard Greb
Mygooi
847-651-1445 / rgreb(at)aol(dot)com