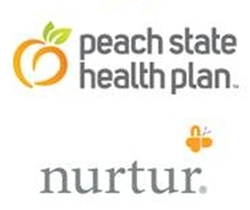 It is a privilege to support Peach State in their work within the teen population to deliver a comprehensive, collaborative and community-based program.
Farmington, CT (PRWEB) June 03, 2014
Nurtur is proud to support Peach State Health Plan and Centene Corporation, our parent company, in receiving the 2014 Environmental Protection Agency (EPA) National Leadership Award in Asthma Management.
Peach State is a managed care organization serving Medicaid members throughout Georgia. Nurtur began working in partnership with Peach State in 2007 to develop a comprehensive program for asthma disease management. With a significant number of teenaged members with diagnosed asthma, Nurtur developed a targeted program to engage, educate and support teens to improve their health.
Teenagers present a unique challenge as they are often a difficult population to engage in the management of their chronic disease. Peach State received the EPA National Environmental Leadership Award for demonstrating success in engaging teens with asthma to understand and improve their condition.
The Nurtur Teen Asthma Program provides identification, personalized assessment, age-appropriate and culturally sensitive educational materials, and stratified intervention services. Integrated healthcare services include multimedia, bilingual educational materials, health coaches, home visits with environmental assessments, and medical and social supports delivered in clinics, at home and at school. The program also employs innovative incentives to help more than 700 teens annually improve medication compliance and self-management, and reduce unplanned healthcare utilization and asthma severity.
Peach State estimates the program saves approximately $319 per member per month by reducing hospital admissions and rescue medication use.
"Each and every time a member experiences better outcomes through an innovative Centene program, the bar is set incrementally higher," said Dr. Jeremy Corbett, Chief Health Officer at Nurtur. "It is a privilege to support Peach State in their work within the teen population to deliver a comprehensive, collaborative and community-based program."
The EPA National Environmental Leadership Award in Asthma Management is the highest recognition a program and its leaders can receive for delivering excellent environmental asthma management as part of their comprehensive asthma care services. This is the second time Nurtur has received this prestigious award for its asthma disease management programs. Previously in 2011, Nurtur joined with Centene Corporation and Managed Health Services Indiana (MHS) in being honored at the National Asthma Forum in Washington, D.C.
###
About Nurtur: Nurtur is the behavior change company dedicated to helping individuals improve their health and wellbeing. The company offers wellness programs and health coaching to educate, enable and motivate people at all life stages address the life issues that get in the way of health as well as the health issues that complicate living. Nurtur life and health management programs include wellness, disease management (including Back Pain, Depression, Diabetes, Heart Disease and Respiratory Disease), episodic/catastrophic care management, work-life resource and referral, employee assistance and professional training. The company provides services to multiple market segments including employers, unions, health plans, and state and government agencies.