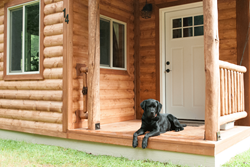 Romtec develops each building with unrivaled attention.
Roseburg, OR (PRWEB) June 03, 2014
Romtec, Inc. continues to grow its product offering by now designing, manufacturing, and installing vacation cabins across the country. Romtec is a national market leader in the design and supply of public restrooms and multipurpose park and recreation structures. Now Romtec is also designing and providing vacation cabins as a new addition to its ever expanding product line of public use structures.
Cabins are a natural fit for the design expertise of Romtec. For every building, Romtec considers the particular needs of the project and creates floor plans and engineering documents to meet those needs. On paper Romtec offers four new cabin models, but through its established design-build process, there are limitless possibilities for configuring and constructing cabins for any outdoor venue. This process develops unique buildings and structures that are professionally designed and manufactured.
"Each project we do is special," said Mark Sheldon, Vice President of Romtec. "Cabins are the perfect product for Romtec because we first work hard to understand what our customers want. Then, Romtec develops each building with unrivaled attention to the details that make each project exceptional."
The cabins will benefit from this same Romtec process. Each cabin is designed as a standard structure. The interior and exterior of a cabin can then be designed with many construction options. These are options such as log siding, stone, shake siding, wood floor, tile, stucco, and more. The same process that has made Romtec successful at supplying restrooms, concession stands, showers, utility buildings, and more can now be used to get cabins.
Over the past few years, Romtec has had success applying its design-build process to a variety of new products. Most recently, the Sidewalk Restroom was developed and offered for the urban restroom market. Prior to that, hand-crafted log pavilions and kiosks were launched as new Romtec products. These all were very successful. The new cabins continue this pattern of product development that continues to help Romtec grow and develop more relationships with parks and communities across country.
Romtec, Inc. is a national designer, manufacturer, and supplier of pre-engineered restroom buildings, recreation structures, and other park utility structures. Romtec provides turnkey installation. Romtec, Inc. is a privately owned company founded in 1977. Romtec, Inc. is located at 18240 North Bank Rd. in Roseburg, Oregon. Romtec can be reached at 541-496-3541 or by visiting http://www.romtec.com.