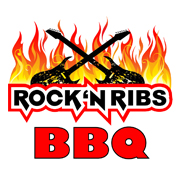 "I wanted to create a clean, urban feel that will make people want to stay awhile." - Alice Banach, Owner and Chef
Lake Zurich, IL (PRWEB) June 03, 2014
A new, rockin' restaurant is in town! Rock 'N Ribs is Lake Zurich's newest, premiere barbecue restaurant with a sleek, rock 'n roll vibe.
Rock 'N Ribs was born of Alice Banach's lifelong dream of owning her own restaurant. While maintaining her career in creative marketing for some of the nation's most well-known brands, Alice began quietly catering on the side. After her barbecue recipe began winning awards by nationally renowned chefs year after year, the idea for Rock 'N Ribs was born.
The Menu
Rock 'N Ribs features your favorite barbecue fare… with a twist. They start with all high-quality, locally grown baby back ribs and prepare them with Alice's signature 4-step smokeless process. The result? Ribs that are tender, moist and rich with smoke flavor. The ribs are finished with their exclusive, award-winning sauce which boasts a sweet and tangy flavor, with a kick.
The menu offers something for everyone. Start with 'Opening Acts,' like their addicting house special Sriracha Sticky Wings. Or, try the Chunky Calico Steak Chili featuring a trio of beans, lean ground beef and chunks of steak.
Move on to the 'Headliner' award-winning ribs and sandwiches. Don't forget 'The Band' - house-made sides that are amped up versions of familiar barbecue accompaniments. For example, the Beefy Baked Beans are a mixture of three types of beans with lean ground beef, bacon, onion and brown sugar. Finish with a 'Sweet Encore' - moist, decadent cupcakes with buttercream frosting and chocolate ganache. There are even 'Lil Rockers for the kids!
Atmosphere
At Rock 'N Ribs, their specialty is in the details. Alice and her husband, Terry, combined their skills in construction and design to create a rock 'n roll ambience - industrial, with 'hard' metal elements juxtaposed with 'soft' warm colors and accent lighting.
"I've always loved great barbecue, but I don't love the dim, sticky atmosphere associated with most rib joints," said Alice. "I wanted to create a clean, urban feel that will make people want stay awhile."
As you might expect from the name, Rock 'N Ribs is tastefully decorated with iconic music decor and memorabilia. And, you'll always find your favorite family-friendly music videos playing on four 55" televisions. The tunes range from vintage concert videos to today's choreographed visuals that will have guests singing and chair dancing through their meal. But, unlike other rock food establishments, it's still quiet enough to enjoy good conversation with friends and family.
'Cue for a Cause
Rock 'N Ribs is a restaurant with heart - focused on 'cue, community and supporting local causes. "We believe in giving from our abundance, and that means giving back to the communities that loyally support us," said Alice." We give 10% of all proceeds to local causes and community organizations."
Hours and location
Rock 'N Ribs is located at 463 South Rand Road in Lake Zurich, Ill., in the Village Square Shopping Center. The restaurant is open Tuesday-Thursday from 11:30 a.m. - 8:00 p.m., Saturdays from 12:00 p.m. - 8:00 p.m. and Sunday from 12:00 - 7:00 p.m. Rock 'N Ribs also offers an extended catering menu.
For more information, visit rocknribsbbqlz.com or call (847) 847-1690.