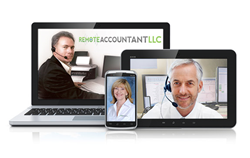 Businesses caught in unfavorable accounting situations must seek to remedy their financial standing immediately, by switching to a reliable accounting firm, or risk exorbitant penalties
El Paso, TX (PRWEB) June 03, 2014
Times are tough, and businesses owners are experiencing financial wars with their accounting agencies more frequently as federal and local tax regulations continue to fluctuate. Remote Accountant, LLC is a national remote accounting, bookkeeping, and tax firm that is dedicated to providing small businesses, entrepreneurs, franchisees, and individual taxpayers with exemplary services- focusing directly on offering accounting services to businesses experiencing expensive accounting errors. As the reliability of accounting servicers begin to become uncertain, it is imperative that business owners secure trustworthy financial advisers, who keep abreast of changing federal and local tax changes.
On June 1st, 2014 Lima Ohio released an article covering the new pension accounting standards established for public institutions, and stated that these new implements "will force school districts and other public entities to list a liability on their financial statements that is not actually theirs." To read more visit limaohio.com/news/news/1390013/New-accounting-standards-creating-headaches-for-public-institutions.
On May 29th, 2014 CBS Sacramento reported that $31.65 billion in accounting errors ravaged California's state office, which is in charge of controlling California taxpayers' money. An audit was conducted and revealed understated federal trust fund revenues and expenditures, overstated fund assets, and errors in reporting public building construction. To read more visit sacramento.cbslocal.com/2014/05/29/31-65-billion-california-accounting-errors-higher-than-combined-gdp-of-jamaica-iceland/.
Jason A. Vojick, CEO of Remote Accountant, LLC, released a statement regarding inauspicious financial accounting ventures, "Businesses caught in unfavorable accounting situations must seek to remedy their financial standing immediately, by switching to a reliable accounting firm, or risk exorbitant penalties resulting from accounting errors, which may lead small businesses to their ruin."
In response to the rife accounting misfiling, errors, and general inconsistency, Remote Accountant, LLC is introducing new benefits, and discounted introductory rates for new business clients that switch to Remote Accountant, LLC. The specialists at Remote Accountant, LLC understand that in progressive times business clients require unfailing accounting services from wherever they are. Remote Accountant, LLC's services extend to clients remotely, servicing business leaders from the comforts of their own offices via video chat, and live PC to PC login, for immediate access to accounting files for prompt rendering.
The experts at Remote Accountant, LLC utilize the most cutting-edge technology that allow their talented accountants to remotely serve their for remote interactive and automatic updating of accounting, bookkeeping, and tax filings, ensuring each account remains updated and streamlined simultaneously. Remote Accountant, LLC offers clients expert QuickBook services, and provides a wide array of accounting specialties which can be found on their website at http://www.remoteaccountantllc.com or on their firm introduction video.