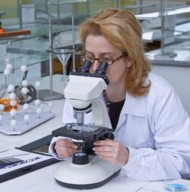 With this design, the FAK inhibitor could potentially induce a more durable clinical response.
(PRWEB) June 05, 2014
Veratem, Inc., the developers of several experimental drugs that target cancer stem cells, have released an update on their ongoing mesothelioma research. Surviving Mesothelioma has posted an article on the paper. Click here to read it now.
Cambridge, Massachusetts-based Verastem researchers say their experiments on mesothelioma cells and in live mice with mesothelioma suggest that drugs that inhibit focal adhesion kinase (FAK) may be especially effective against this hard-to-treat cancer.
"These preclinical results provide the rationale for a clinical trial in malignant pleural mesothelioma patients using an FAK inhibitor as a single agent after first-line chemotherapy," writes Verastem researcher Irina Shapiro, the paper's lead author.
The paper, published in the journal Science Translational Medicine, finds that FAK-inhibitors work best against mesothelioma cells that have low levels of a tumor suppressor called merlin. About half of patients with mesothelioma have low merlin levels.
"Although chemotherapy is often the first line of defense against mesothelioma, it has not proven to be very effective," says Alex Strauss, Managing Editor of Surviving Mesothelioma. "If further research backs up these results, FAK inhibitors may become an important addition to mesothelioma treatment for many patients."
To read more on Verastem's newly-released research, including insights into what it could mean from the company's head of research, see Trial Drug May Boost Mesothelioma Chemotherapy Success available now on the Surviving Mesothelioma website.
Shapiro, IM et al, "Merlin Deficiency Predicts FAK Inhibitor Sensitivity: A Synthetic Lethal Relationship", May 21, 2014, Science Translational Medicine, Vol. 6, Issue 237, http://stm.sciencemag.org/content/6/237/237ra68#aff-1
For nearly ten years, Surviving Mesothelioma has brought readers the most important and ground-breaking news on the causes, diagnosis and treatment of mesothelioma. All Surviving Mesothelioma news is gathered and reported directly from the peer-reviewed medical literature. Written for patients and their loved ones, Surviving Mesothelioma news helps families make more informed decisions.