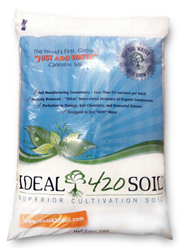 (PRWEB) June 02, 2014
Ideal 420 Soil is a wholly compassionate entity, specializing in soil science that has been custom-developed with caregivers and patients' best interest in mind. In aiming to streamline entirely the often onerous growing and cultivating process, the developers at Ideal 420 Soil have created an optimal; economically-sound custom-crafted soil that features vital nutrients to promote a maximum yield.
The developers at Ideal 420 Soil have specialized in soil science and spent three years finely tuning the organic compounds and nutrients necessary for patients and caregivers alike to produce only the finest home-grown medicine. Today, this company boasts the scientific authority and knowledge necessary to transform Ideal 420 Soil into a household name as one of the medical marijuana industry's finest products in custom blended nutrient-rich soil.
In garnering an exceptional amount of success over the past few years, the developers at Ideal 420 Soil have solidified an absolutely foolproof bio-stimulant rich soil with a perfectly designed ratio of nutrients so that the growing plants are ultimately feeding themselves. Nitrogen, Phosphorous and Potassium are among some of the vital nutrients and calculated components precisely layered into the soil to provide more air space for the plants in which to thrive.
The developers at Ideal 420 Soil have combined clean manufacturing with a formulaic algorithm that doesn't allow for mold, insects, parasites or germs to contaminate the soil. In keeping all soil-based production and manufacturing indoors, no issues of contamination can occur as all raw ingredients involved are conserved to the highest quality. In fact, the co-founders at Ideal 420 Technologies are so confident in the efficacy of the product and its ability to generate the highest quality of end-product by harvest that a full price money-back guarantee free of questions is promised to any unsatisfied customers.
This agriculturally sound soil is 100% sterile and not so much as touched by human hands prior to the customer's package retrieval. At Ideal 420 Soil the product's adequacy is every bit as important as its manufactured production. With a water only formula, there is no learning curve and no cultivating experience needed. The "organic" difference truly becomes palpable in both taste and aromatic scent – in other words the developers at Ideal 420 Soil have come to realize the very simple solution to prime cultivation - healthy plants equal healthy humans. The development team at Ideal 420 Soil effectively mastered the understanding of not only the science of soil but plant fertility and organic cultivation.
By custom tailoring and providing the medical marijuana industry with cutting edge soil-science technology, Ideal 420 Soil is essentially reinventing the burgeoning medical marijuana industry as it is known, revolutionizing the very mechanisms behind plant growth; quite literally, starting at the roots. Clients, caregivers and patients alike are able to personally reap the magnificent yield of medicine at their very own fingertips with Ideal 420 Soil. And with improved Science-based research perfecting the organic soil each day, Ideal 420 Soil is steadily gaining its well-deserved place as a one-stop-shop in cannabis soil marketplace.