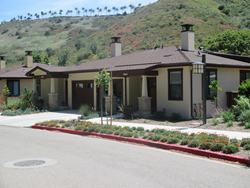 The need for residential living has grown and is continuing to grow since we first opened in 1966.
Santa Barbara, CA (PRWEB) June 03, 2014
Valle Verde, a senior living community in Santa Barbara, recently completed construction on 40 new single-story residences and will offer the newest residential living option for older adults in the area.
"The need for residential living has grown and is continuing to grow since we first opened in 1966," said Tim Wetzel, executive director at Valle Verde. "The new homes will provide older adults and their families a familiar, welcoming and active place for them to spend their retirement."
Studies suggest there will be 72 million seniors by 2030, a number that will represent about 20% of the United States population. According to the United States Census Bureau, Santa Barbara residents 65 and older make up more than 14% of the population, 3% higher than the population of older adults in California.
"In addition to the new residences, we've continued to expand our community by offering new activities and amenities for our residents," said Wetzel. "Residents are enjoying the new bocce ball court, putting green, outdoor events plaza, wellness clinic, fitness center and a new styling salon with a massage treatment room. We're also looking forward to having a new poolside cafe by this fall."
The community's expansion will also provide additional parking spaces, a renovated theatre, convenience store, multi-purpose art room, card room, and meditation chapel.
About Valle Verde
Valle Verde has been providing quality care, services and lifestyle options to older adults in Santa Barbara for nearly 50 years. Valle Verde provides residents with the continuity of a flexible, residential lifestyle, while offering the security of health care. For more information about Valle Verde, call 1-800-491-0629, visit the campus at 900 Calle de los Amigos in Santa Barbara, or visit the community's website at ValleVerde.org.
About ABHOW
Valle Verde is owned and managed by ABHOW, a California nonprofit public benefit corporation. ABHOW is a nonsectarian corporation, serving seniors through quality retirement housing since 1949. ABHOW seeks to enhance the well-being and security of older adults through the provision of housing, health care and supportive services, and was a pioneer in the development of CCRCs. For more information about ABHOW, visit ABHOW.com.