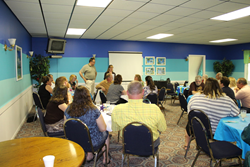 Hersey, MI (PRWEB) June 04, 2014
"The decision to open your heart and home to a child or sibling group is one of the most rewarding and selfless things a person can do," Director of Community Based Services Brenda Bolin said. "Foster parents provide a refuge and a place to call home during very challenging and often scary times in abused children's lives."
Approximately 8,500 children are in foster placements throughout Michigan (US Dep. of Health & Human Services). Foster parents change lives and offer hope to children who have been removed from their homes by no fault of their own, but because they have experienced abuse or neglect and cannot safely remain with their parents.
In the central Michigan area, Eagle Village continues to help biological families get healthy enough, through counseling and training, to have their children return to own their homes. Eagle Village also works independently and by partnering with MARE.org to connect other young people with a forever family through adoption when reunification with the biological family is not possible.
Eagle Village is currently working with over 50 new and existing foster homes in the central Michigan area and are still in need of more. Kathy Lockhart, Foster Care Coordinator at Eagle Village shared, "We are working with several families to get them licensed very soon but in the time it takes to get them ready, more youth will be brought into the system in need of homes." If you have considered becoming a foster parent, please call today for more information on how you can make a difference in the life of a child.
Eagle Village is a non-profit family treatment center providing Intervention Services and Camps, Residential Treatment, Foster Care and Adoption services for all counties in Michigan. If you know of a family in crisis that may benefit from these programs or to become a foster parent, contact Eagle Village at 231-832-2234 http://www.eaglevillage.org, Facebook or Twitter.