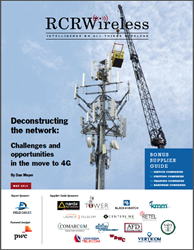 Few would under estimate the work involved in decommissioning a wireless network, but these insights from experts across the industry are an eye-opening experience.
Austin, Texas (PRWEB) June 03, 2014
Wireless operators are increasingly turning to network decommissioning efforts to migrate support from legacy 2G and in some cases 3G networks in favor of LTE deployments. However, according to experts from Sprint, Ericsson, and Black & Veatch, such moves are fraught with peril as there are still hundreds of millions of customers relying on legacy networks and hundreds of tons of hardware in the field making sure those networks can handle the load. This editorial feature report, entitled, 'Deconstructing the Network - Challenges & Opportunities in the Move to 4G' delves into the issues of investment recovery, environmental compliance, and how VoLTE further complicates this process.
Download this report to learn:
● Why carriers need to begin decommissioning their legacy networks
● Which wireless carriers are further along the process
● The impact VoLTE deployments will have on legacy network decommissioning efforts
● The importance of strong planning prior to taking on such a large job
● The potential operational challenges embedded in such an undertaking
● The need to manage environmental and recycling concerns
A rapid increase in consumer demand driven by robust network technology evolution and more advanced mobile devices is what the wireless industry now faces. There is now a "perfect storm" for wireless carriers that are struggling to free up spectrum and financial assets to support advanced IP-based network technologies while at the same time needing to turn down less efficient, legacy network operations.
"The wireless industry has hit an inflection point where wireless carriers need to begin turning down inefficient legacy networks in order to better support their next-generation network deployments. While the move would seem to be clear cut, there are numerous challenges from an operational and project management standpoint, as well as environment concerns that need to be taken into account," explained Dan Meyer, Editor-In-Chief of RCR Wireless News and author of the report. "We talked with experts across the industry on those challenges and gathered some very fascinating insight into how wireless carriers and their vendor partners are handling this move."
This RCR Wireless News Infrastructure Series Feature Report delves the decommissioning market, taking a look at the reason for turning down legacy systems, the challenges embedded in such moves and how the industry can manage such vast operations. The report also looks at the environmental challenges decommissioning legacy networks face as well as the impact such efforts have on the embedded customer base. Industry analysts, consultants, wireless carriers and equipment vendors provide their insight into the challenges and opportunities.
Watch the complimentary editorial webinar featuring:
● Dan Meyer, Editor-In-Chief, RCR Wireless News
● Dan Hays, Principal and U.S. Wireless Services Advisory Leader, PwC
● Carl Rex, Program Manager, Black & Veatch
● Jorg Erlemeier, VP Market Services for North America, Nokia
With billions of dollars on the line, wireless carriers are trying to find the right balance between continuing to support wireless networks that remain core to their operations while at the same time moving towards a more spectrally efficient future. Wireless network decommissioning is set to become a core focus of all mobile operators.
"While few would under estimate the work involved in taking down a wireless network, speaking with experts from across the industry on this segment was an eye-opening experience, and the information shared would definitely be of great interest to those companies expected to be impacted from such decisions," Meyer added.
Click here to download this feature report.
About RCR Wireless News
Since 1982, RCR Wireless News has been providing wireless and mobile industry news, insights, and analysis to industry and enterprise professionals, decision makers, policy makers, analysts and investors. Our mission is to connect, globally and locally, mobile technology professionals and companies online, in person, and now on video. Our dedication to editorial excellence coupled with one of the industry's most comprehensive industry databases and digital networks leads readers and advertisers to consistently choose RCR Wireless News over other industry publications. http://www.rcrwireless.com.