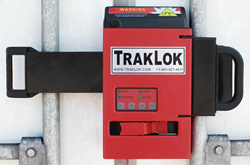 Knoxville, TN (PRWEB) June 03, 2014
TrakLok, Inc., a cargo security firm specializing in trailer and container security, today announced that it has been awarded a $450,000 contract to provide engineering support to Oak Ridge National Laboratory's Global Threat Reduction Initiative Transportation project. This project seeks to enhance the security of radioactive sources during transport within the United States.
The TrakLok engineering team has extensive experience in the development of cargo security systems, sensor platforms and low power management systems.
"Our product design heritage puts us in a unique position to support the cargo security requirements of the GRTI Program" said TrakLok VP of Engineering Dan Blankenship. "This project will provide significant enhancements to the communication paths for ORNL's transportation security system."
About TrakLok, Inc.
TrakLok International LLC represents the coming together of a cargo security company and a wireless design firm to create a robust and intelligent cargo security device. Located in Knoxville, Tennessee, the TrakLok® cargo security system includes: a hardened lock that withstands prying, cutting, or impact tools; an integrated alarm that sends alerts for unauthorized attempts to access cargo; and a GPS tracking system with a cloud-based Web portal that allows access to real-time information on location and cargo integrity. For more information, please go to http://www.traklok.com.
Media Contact:
Susan Fall
LaunchIt Public Relations
858-490-1050
susan(at)launchitpr(dot)com