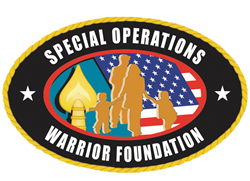 Tampa, FL (PRWEB) June 03, 2014
In support of our nation's elite military members and their families, three local Winn-Dixie stores have selected the nonprofit Special Operations Warrior Foundation to benefit from the grocer's 2014 "Give a Dollar, Make a Difference" charitable campaign, which began May 14.
Through June 17, customers at the following Winn-Dixie locations will be invited at store registers to donate $1 to support the SOWF:

7851 Palm River Rd., Tampa
8424 Sheldon Rd., Tampa
9822 S. U.S. 301, Riverview
"We are excited to support the Special Operations Warrior Foundation and hope to raise a lot of money with this program," said Jamie Woolwine, Store Director at the Riverview Winn-Dixie.
Woolwine heard of the Special Operations Warrior Foundation, researched it, then recommended the SOWF to other store directors in his district.
Based in Jacksonville, FL, Winn-Dixie has 548 grocery stores in Florida, Georgia, Alabama, Mississippi and Louisiana.
"I applaud Winn-Dixie's efforts to recognize our fallen warriors and their families," said retired Vice Admiral and Navy SEAL Joe Maguire, the SOWF's president and CEO. "The Special Operations Warrior Foundation will ensure every dollar raised will go directly to providing the children of fallen special operators with a college education.
"With nearly 140 students in colleges and universities, every dollar goes a long way."
Founded in 1980 and based in Tampa, the Special Operations Warrior Foundation offers three programs: college scholarships for children of Special Operations Forces (SOF) killed in the line of duty; immediate financial assistance to families of wounded SOF troops so they can get to their loved ones' hospital bedside; and academic and family counseling for spouses and children of fallen SOF warriors.
About Winn-Dixie
Winn-Dixie Stores, Inc. is a subsidiary of Bi-Lo Holdings, which is the fifth-largest conventional supermarket in the United States based on store count. Founded in 1925, Winn-Dixie employs more than 48,000 associates who serve customers in 548 grocery stores and 418 in-store pharmacies throughout the five southeastern states of Alabama, Florida, Georgia, Louisiana and Mississippi. For more information, please visit http://www.winn-dixie.com and http://www.biloholdings.com.
1Based on projections following Delhaize acquisitions of May 31, 2014.
Forward-Looking Statements for Bi-Lo Holdings
This press release includes forward-looking statements about future events, which involve risks and uncertainties. Generally, the words "believe," "expect," "intend," "estimate," "anticipate," "project," "will," "could," "may," "plan," "potential," "likely," "goal," "target," "objective," "outlook," "seek" and similar expressions identify forward-looking statements, which generally are not historical in nature.
Forward-looking statements reflect our current expectations, based on currently available information, and are not guarantees of performance. Although we believe that the expectations reflected in such forward-looking statements are based on reasonable assumptions, these expectations could prove inaccurate as such statements involve risks and uncertainties, many of which are beyond our ability to control or predict. Should one or more of these risks or uncertainties, or other risks or uncertainties not currently known to us or that we currently deem to be immaterial, materialize, or should underlying assumptions prove incorrect, actual results may vary materially from those anticipated, estimated or projected. For these reasons, we caution you against relying on forward-looking statements, which speak only as of the date on which they are made. Except as may be required by applicable law, we undertake no obligation to update any forward-looking statements to reflect events or circumstances after the date on which they are made or to reflect the occurrence of unanticipated events.