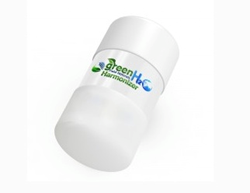 The Harmonizer will assure an abundant supply of healthy, energized structured water to your home for many years to come. You will never have to buy bottled water again.
Detroit, MI (PRWEB) June 05, 2014
All living things require water. To the extent that the quality of that water is better, so is the quality of life. Quality of life is contingent upon water quality. The Water Structuring Harmonizer produces healthy, energized, structured water using the natural methods of nature. The unit itself is a pressurized matrix of all natural elements and minerals, which impart energy to the water essentially bringing water back to its original vibrant life-supporting quality.
"Water constitutes more than two thirds of our body weight, and next to air, is the most essential element to our survival. Without it, we would die in just a few days," says Beth Roberts of JustloveSuccess. "Much of our body health is predicated upon ready access to high quality water."
Most water structuring devices and purifiers, range from $399 - $2400 and up. For only $240JustloveSuccess.com offers the Harmonizer, which produces healthy water for an entire household. The Harmonizer provides a permanent, low-cost way to provide healthy, energized structured water to an entire home. This revolutionary product is easy to install and requires no interruption to existing water lines, requires no filters, replaceable parts or electricity.
Quality of life includes avoiding sickness and disease. Water, all by itself, is the simplest natural treatment to a vast number of health issues. Good, clean, structured and energized water will effectively treat Asthma, Allergies, Obesity, High Blood Pressure, Cholesterol, Heart Disease, Stroke, Diabetes, Hypertension, Infection, Depression, Chronic Fatigue Syndrome, Sleep Disorders, Lack of Energy, Addiction, Osteoporosis, Leukemia, Lymphoma, Attention Deficit Disorder, Hot Flashes, Gout, Kidney Stones and more.
Now JustloveSuccess.com offers the Greenfield Naturals Water Structuring, Energizing Harmonizer below list price for a limited time. Installing the unit requires no interruption to existing water lines. Simply strap it to the in-coming water line and the Harmonizer will do the rest!
Ionizers cost thousands of dollars and could potentially contain toxins resulting from the process of electrocuting the water. The Harmonizer contains every element found in nature and produces a natural electromagnetic field (EMF) which removes toxins and restores water to its original state. It becomes fuel to the body.
Unlike man-made EMFs found in microwaves, smart boxes and cell phones, the Harmonizer has the ability to bring into to harmony the otherwise dangerous EMFs, creating a peaceful, healthy natural environment for humans, plants and animals.
The Harmonizer offered by Justlovesuccess.com will assure an abundant supply of healthy energized structured water to your home for many years to come. Once purchased, the need to buy bottled water for the home is eliminated.