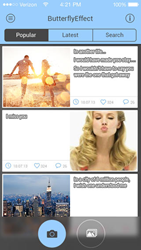 This app provides a unique platform to improve not only your own life, but also the lives of others.
Boston, MA (PRWEB) June 03, 2014
ButterflyEffect, an app created by independent development company, ButterflyEffect LLC, officially launched in the iTunes store this week. ButterflyEffect utilizes the world of mobile apps to provide an anonymous medium for users to create a positive influence on the lives of users by giving gratitude, receiving inspiration, and sharing wishes while connecting with other people.
"The theory of the ButterflyEffect is about all of the little things that can have a big impact on the lives of people all over the globe," said Johnna Powell, founder of ButterflyEffect. "Often, we're not aware of the affect we can have, and this app provides a unique platform to improve not only your own life, but also the lives of others."
ButterflyEffect allows users to send anonymous emails of gratitude to others, and record their thoughts in a daily photo journal. The app is also a useful tool for gaining daily motivation by providing inspirational quotes for an extra boost of happiness. A unique feature of Butterfly Effect is the anonymous news feed in which users can share their deepest wishes with each other without the burden of being tied to their personal identity, thus being free to write anything on their minds. The app also offers users the opportunity to connect directly with the bearers of these wishes via direct messaging, in order to make a positive difference.
"We're very excited about the positive impact this app can have on the world. People now have a modern way to create a positive ripple effect." said Powell. "This is as much a social experiment as a mobile app, and we believe people are going to have a really enthusiastic response."
One primary source of inspiration for the development of the app was "The Science of Happiness—An Experiment on Gratitude" which is available on SoulPancake. It contends that one of the biggest contributing factors to overall happiness is how much gratitude a person demonstrates, and with the ButterflyEffect, users have the chance to express gratitude as frequently as they wish, in a real and tangible way.
ButterflyEffect is available now on iPhone and iPad, for free, in iTunes.
ABOUT:
Johnna Powell Maloney, founder of ButterflyEffect LLC, received her PhD at MIT in Electrical Engineering and Computer Science. She subsequently spent 5 years as a consultant at McKinsey & Company, spending some of her time on the side pursuing her passion for entrepreneurship. One of her passions was sparked while reading several articles about the importance of gratitude, and its role in overall happiness. She decided to design an app that would allow users to express their gratitude, record their thoughts on a daily basis in a private journal, and most importantly, would provide an anonymous network for users to share secret thoughts in a non-judgmental environment. The concept is to create a positive and uplifting forum in which users can discuss problems or thoughts, and receive support without being judged. For more information, visit http://www.butterfly-effect.me.