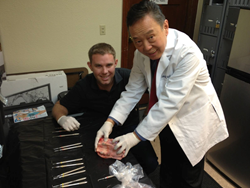 Dunedin, FL (PRWEB) June 02, 2014
Progressive Dental Marketing (PDM) recently began offering marketing services for the Chao Pinhole Surgical Technique™ (PST™), a new minimally invasive treatment for gum recession. Although only a select group of dental professionals in the country are currently certified to perform the procedure, it is rapidly growing in popularity due to its ability to restore the gum line without incisions or sutures. As a result, most patients experience little to no bleeding, swelling, or pain with this revolutionary new technique.
Prior to the Chao Pinhole Surgical Technique™, also known as Chao Pinhole Gum Rejuvenation™, traditional gum grafting surgery was the primary option available for restoring patients' gum lines. Conventional gum grafting surgery requires dentists to use tissue from the palate and suture it to the receded areas. Doctors typically only treat a couple of teeth per session because this type of procedure is usually more invasive, painful, and requires a recovery period for healing. Consequently, it can take months or even years for patients with significant recession to complete treatment using this method.
The patient demand for Chao Pinhole Gum Rejuvenation™ has caught the attention of the dental community and PDM CEO Bart Knellinger estimates between 10 and 15 of the agency's clients undergo training with Dr. Chao every month. PDM has formed a strategic alliance with Dr. Chao to help promote the procedure and train the doctors on treatment planning and how to market the Chao Pinhole Surgical Technique™.
"Our PST™ doctors are seeing between 10-15 new patients per month for Pinhole consultations," said Knellinger. "The training the doctors receive is five star all the way around, from the hands-on surgical technique to the marketing. It provides the doctors with a total solution that is easily implemented soon after they are certified."
In addition to Knellinger speaking at every training seminar, PDM offers a variety of marketing services specifically designed to help doctors promote the Chao Pinhole Surgical Technique™. Doctors can opt for customized Chao Pinhole Gum Rejuvenation™ print materials, new website content, ads, press releases, and sales letters as well as ongoing staff training and support.
To learn more about PDM's marketing services for the Chao Pinhole Surgical Technique™, please call (727) 286-6211.
About the Company
Progressive Dental Marketing (PDM) has "changed the game" in regards to marketing for high dollar surgical cases by implementing a Full-Circle Marketing™ approach. PDM is the leading dental marketing company for attracting targeted patients through online marketing, seminars, direct mail, TV, radio and referral programs. The majority of clients will see an eight to ten ROI the first year and staff members are ready to handle the increase in new patient calls with ongoing consulting and training. PDM maintains a 97 percent client retention rate, which is leading by a large margin among dental marketing companies! PDM is based out of Dunedin, FL and always offers a complimentary initial marketing evaluation. The staff includes dedicated account managers and consultants who are available to answer any and all questions. To learn more about PDM, visit their website at http://www.progressivedentalmarketing.com and call (727) 286-6211.