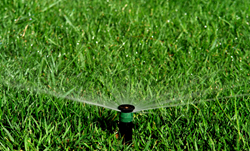 Burbank, CA (PRWEB) June 03, 2014
Business Insurance USA announced today a new affordable line of general liability irrigation system installer insurance, designed to help reduce catastrophes that can arise legally or financially when lawsuits are filed against a sprinkler installation company.
"Irrigation sprinkler installation professionals obviously provide their professional services on site," explains Gary Fisher, Business Insurance USA's Executive Director, "which opens them up to more risks of accidental injuries or even being accused of causing damage to the customer's property. By creating a line of general liability protection that even the smallest sprinkler companies can afford, we help reduce those risks so that the company can focus on service and growth."
Sprinkler system installer liability insurance provides commercial general liability coverage to independent installers and companies alike. It is designed to provide a broad range of protection against many types of risks that can endanger the viability of the business.
Risks that are common for irrigation installation companies include physical injuries and harm: a customer may need to seek medical attention if they trip over a sprinkler line that is not yet buried for instance. Property damage allegations may be filed against the sprinkler company if the customer believes their award winning rose bushes died due to something the installers did, or even if they discover a new scratch on the side of their home.
The new general liability irrigation system installer insurance from Business Insurance USA helps pay for medical expenses when accidental harm happens. It also pays for the costs associated with repairing or replacing property if the company is found to be at fault for the alleged damages. Additionally, this coverage pays for costs that are normally incurred by the company when they must legally defend themselves against liability lawsuits. The business insurance policy can pay for legal representation, court filing fees and other expenses that arise in relation to the suit.
About Business Insurance USA
Business Insurance USA excels in providing multiple layers of business protection to a wide variety of industries. Through the various business insurance options they offer, the company is able to ensure individual professionals and small businesses have just the right types of coverage at prices their budget can afford.
Located in California, Business Insurance USA offers business owners policies, general liability protection, surety bonds, workers compensation insurance, commercial auto coverage and more to companies across twenty states.
For more information visit http://www.businessinsuranceusa.com