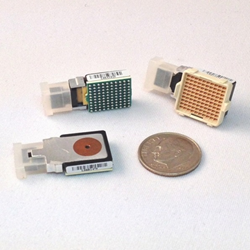 featuring the lowest profile surface mount package in the industry
Montreal, QC, Canada (PRWEB) June 04, 2014
Reflex Photonics, a leading supplier of Optical components and modules for communications, industrial and military applications, today announced its new Industrial Temperature (-40 to +85 °C) rated LightABLE ™ optical transceivers enabling high speed interconnect in harsh environments.
The LightABLE ™ is a parallel optical transceiver featuring the lowest profile surface mount package in the industry. Also available as a 100 pin pluggable Meg-array™ connector, these Optical Engines deliver up to 144Gbps over 12 fiber optic channels and higher speeds are in development. It is ideal for applications requiring high density fiber optic interconnect between blades or systems as well as high speed video applications.
Compatible with

10, 40 & 100 Gbps SR Ethernet
8 and 10G Fiber Channel
Xilinx® Rocket IO™ up to 10.3125 Gbps
Altera® Stratix™ IV GT 10.3125 Gbps
InfiniBand® 12 x QDR
PCI Express® 3.0
Proprietary protocols with balanced code
Unlike other embedded optics, the LightABLE™ is compatible with low cost mass production pick & place machines and solder reflow temperatures. The MT connector can be ruggedized to meet the tough requirements of avionics and military applications.
Gérald Persaud, VP Product Management at Reflex Photonics said "In today's digital world, the demand for bandwidth is continually increasing. With growing numbers of Internet users and a rapid proliferation of mobile devices, cloud computing and storage and the advent of 4k video, power and size requirements of copper interconnects are no longer effective. System designers are finding that the higher bandwidths and longer reach combined with lower power and improved EMI makes the LightABLE™ optical components ideal for new high performance designs."
For more information on Reflex Photonics and its technology, please visit http://www.reflexphotonics.com or email sales@reflexphotonics.com.
About Reflex Photonics
Founded in 2002, Reflex Photonics is an advanced developer of extreme high-speed, parallel channel optical connectivity solutions for Telecommunications, Datacom and Defense applications. The company addresses the growing demand for high-speed interconnects in enterprise-class storage/server environments and telecom-class switches/routers, enabling equipment developers to design smaller, lower cost and lower powered systems that result in higher fidelity and faster connectivity.
InterBOARD®, LightABLE™, Light on Board®, Reflex Photonics and the Reflex Photonics logo are trademarks of Reflex Photonics Inc.