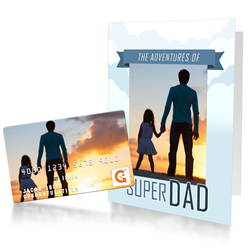 Pittsburgh, PA (PRWEB) June 03, 2014
Dad's special day is right around the corner and GiftCards.com™ has an array of creative gift ideas to show him the appreciation he deserves.
How does one show gratitude and appreciation to the dads in our lives? Thanks to GiftCards.com, the highest-ranking and most-trafficked gift card website, the search is over. Today, they revealed their suggested 2014 Father's Day gift card giving ideas, all paired with an imaginative way to present them. Every Dad is unique, so whether he enjoys throwing down on the grill or practicing his fastball, GiftCards.com has what he wants.
This year, leave behind the stress of coming up with the perfect gift and instead, let GiftCards.com lead the way with their unique take on assembling a gift Dad will love:
● King of the Grill - Find a picture of dad hovering over the barbeque or laughing with family and friends at an outdoor party. Upload the photo to make a gift card and write, "Time to get Cookin'" on the custom message line. Deliver the personalized gift card with a new rub or grilling sauce to try.
● Gadget Man - Though you may think he has all the gadgets he could possibly want, there's always something new on the market to buy. Take a picture of the gadget he's been eyeing; upload it to make a custom gift card, and write, "Make it Happen" on the embossed message line.
● DIY Guy - For the home improvement expert with a garage full of tools, a brand-name hardware store gift card may not be that useful. Put a picture of dad working on his latest project on a personalized gift card that can be used anywhere Visa or MasterCard are accepted. Now, Dad can redeem the Father's Day gift card at specialty shops like builder supply stores, plumbing shops, online cabinetry sites, and more. Tie the gift card to a pair of safety goggles, a tape measure or some soap made specifically for a working man's hands.
● Sportsman - Whether he's shooting hoops or firing with a bow and arrow, sporty dads will appreciate a gift card that can be used to buy anything from new gear to a carbo-loaded meal the night before his next outing. Make a custom gift card with an action shot of dad doing his thing and write the words, "Go For it" on the message line. Tuck the gift card into a new sports bottle, attach it to a power drink mix or wrap it up in a new microfiber towel.
All of the above ideas kick gift card giving up a notch through the personalization feature on GiftCards.com. Don't have time to take a Father's Day photo of your own? Not a problem. Select a Father's Day gift card design from a predesigned gallery via the Gift Card Gallery, which includes thousands of images submitted by photographers, artists, and designers who participate in the PicPaid program. Fast, easy and convenient are all the reasons GiftCards.com should be the go-to source this Father's Day.
"Here at GiftCards.com, we take the time to let shoppers know how special and heartfelt something as simple as a gift card can be, no matter the occasion," said Shelley Hunter, Gift Card Girlfriend and spokesperson for GiftCards.com. "It is our passion to help people with everything from gift advice and ideas to budget-friendly resources like our discounted gift card selections."
About GiftCards.com
Since 1999, GiftCards.com has been providing U.S. consumers with an array of gift card products including personalized gift cards, group gift cards, virtual gift cards, discount gift cards, and local gift cards redeemable at millions of establishments across the country. GiftCards.com is also a leader in gift card innovation with 40 patents filed and 9 patents issued/allowed. More information about GiftCards.com can be found on the company's media page.
Media Contact:
John McCartney
WISE PR for GiftCards.com
+1.415.480.4059
john(at)wisepublicrelations(dot)com