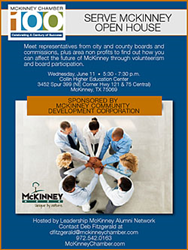 The McKinney Community Development Corporation is honored to have the opportunity to support SERVE McKinney.
McKinney, TX (PRWEB) June 04, 2014
McKinney residents who want to serve their community have an excellent opportunity to meet with representatives from the city and county boards and commissions, as well as area nonprofit organizations, at the SERVE McKinney Open House scheduled for Wednesday, June 11.
The event will offer attendees a chance to learn more about each organization and their needs for volunteers. With over 75 boards, commissions and nonprofit organizations invited, there will be countless opportunities for both the attendees and the organizations to make the perfect connection.
SERVE McKinney is sponsored by the McKinney Community Development Corporation, and Executive Director Cindy Schneible shared why they chose to participate: "The McKinney Community Development Corporation is honored to have the opportunity to support SERVE McKinney. Resident involvement in McKinney, through service on City boards and commissions, is critical to ensuring a strong and dynamic community that serves its citizens, provides an outstanding quality of life and attracts businesses and tourists to power economic growth."
The SERVE McKinney Open House will be held Wednesday, June 11 from 5:30 p.m. to 7:30 p.m. at the Collin Higher Education Center, 3452 Spur 399 (northeast corner of U.S. Highways 121 and 75) in McKinney.
The event is open to the public and there is no charge to attend. For more information about SERVE McKinney, contact Deb Fitzgerald dfitzgerald(at)mckinneychamber(dot)com at the McKinney Chamber of Commerce.
About the McKinney Chamber of Commerce
The McKinney Chamber of Commerce is an advocate for the McKinney business community and proudly serves as the unified business voice of McKinney. The Chamber represents over 39,000 employees from more than 1,230 business investors in McKinney and throughout the North Texas region. With a rich heritage of leadership and collaboration, the Chamber works in concert with the City of McKinney, community partners and the corporate community to promote, advocate for and expand business. As publisher of McKinney Magazine, McKinneyOnline.com and McKinneyChamber.com, the McKinney Chamber markets the community's advantages as the foremost location for doing business and to keep a growing community connected. The Chamber is celebrating its Centennial in 2014 — recognizing 100 years of service to the McKinney Business Community and City of McKinney.