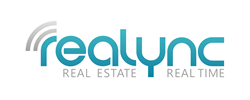 "For years, commercial real estate brokers have been begging for a digital alternative to touring. Finally, ReaLync gets it right." - Matt Dobry, Senior Vice President at US Equities Realty
Chicago, IL (PRWEB) June 04, 2014
ReaLync, the first real estate focused cloud-based platform to enable live virtual property tours and agent interaction, was recently accepted into the elmspring accelerator program housed in 1871, Chicago's premier digital startup space. elmspring, the first industry-focused accelerator in 1871, is honing in on the real estate sector and supports start-up companies with a comprehensive network of resources and enterprise development tools. ReaLync, one of only three startups selected for the accelerator's inaugural class, just began the three-month program on June 2nd.
Colleen O'Toole, elmspring's director, was quoted saying, "We are very pleased to have ReaLync joining us for our summer accelerator session. Their online platform and app show a great deal of promise. We look forward to helping them refine their business strategies, target new relationships, and grow over the next three months."
In addition to their acceptance into elmspring, ReaLync's beta version of their mobile application is now available in the Apple App Store. Those downloading the app today can use Access Code "realyncbeta" to register for the application. The team, comprised of CEO Matt Weirich, COO Ani Rangarajan, and CTO Jeff Wolcott, is soon looking to hire several additional members to focus on sales and product development. The trio has brought in initial funding and taken ReaLync from idea through testing and to full market deployment in just one year. ReaLync is now focused on continuing to test their beta platform coming available to the public on June 12th and building out their full web and mobile platform with additional functionality set to launch late summer 2014. The team is also looking to transition onto Android by the end of 2014.
Matt Weirich, ReaLync's 25-year-old CEO commented, "According to a recent study published by the National Association of Realtors, 90% of buyers and renters start their property search online, but they're still physically touring over 14 properties in person on average." Weirich went on to say that, "ReaLync is excited to bridge that gap between still photos online and physically being at a property in person, and doing this by providing a much more immersive virtual touring experience in real time with an agent or broker."
ReaLync recently brought their platform to the market by exhibiting at two conferences catered towards agents and brokers: the REALTOR® Party Convention & Trade Expo in Washington, DC from May 14-15 and the ICSC RECon Conference in Las Vegas May 18-20. During the conferences, their team focused on demonstrating product use and engaging in agent and broker conversations to further validate market placement and raise awareness of this new property touring capability. ReaLync has raised $70,000 of its initial $200,000 seed round through private investors, and is seeking to close the remaining portion of the seed round this summer.
Matt Dobry, Senior Vice President at US Equities Realty said, "For years, commercial real estate brokers have been begging for a digital alternative to touring. Finally, ReaLync gets it right."
About ReaLync
ReaLync is a web/mobile platform that enables live virtual tours of real estate, providing buyers/renters a more efficient, convenient, and cost-effective way of touring properties. ReaLync transcends the photos and slideshows of yesterday by making property touring mobile, real time, and highly interactive. Learn more at http://www.realync.com and try it today in the Apple App Store.