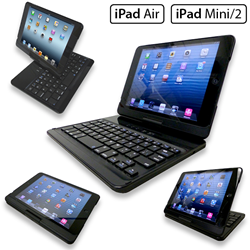 The iPad Flip Turn Case is the most versatile keyboard case on the market. It provides excellent protection all around the iPad, and offers an unmatched branding opportunity using the customer's full color logo artwork.
Chicago, IL (PRWEB) June 05, 2014
Tech review site RainyDayMagazine.com recently evaluated iGear's Flip Turn keyboard case. They recommended it as one of their top iPad keyboard case choices. The real wow factor though comes in the form of the Flip Turn's unique rotation feature. RainyDayMagazine.com says of the Flip Turn: "...it has a feature which is unique to iGear: the iPad may be rotated and folded in such a way that the keyboard lies against the back of the iPad with the keys facing the iPad, making it...like a tablet. This feature is great because when in this configuration, the key are not exposed (meaning, you don't inadvertently start typing when holding the iPad, nor cause undue wear on the keys if you put in on a flat surface and use it like a tablet)". The site also points out how thin and lightweight the new keyboard cases are.
The flip turn mechanism is arguably one of the most versatile on the market. It performs acrobatic tricks on the iPad, allowing it to be used as a tablet, a laptop, or a movie player. By simply opening the case, it sets up the iPad in laptop mode, tilting the screen at a comfortable angle for typing. When flipped 180 degrees, the case becomes a stand, turning the iPad into a movie player. Folding the case completely flat causes the case to disappear, and the iPad becomes a normal tablet. The tension closure system also keeps the iPad closed when not in use, with an auto wake/sleep smart cover design to conserve battery.
Like all of iGear's products, the Flip Turn Keyboard Case can be customized with the user's logo artwork. Images can be printed directly on the Flip Turn Case, in either white ink or full color, using the company's G7 certified UV presses, ensuring brilliant colors, sharp details, and the highest standards of color accuracy and consistency.
The iPad Flip Turn Case is available from iGearUnlimited.com.
About iGearUnlimited.com
iGearUnlimited.com is powered by Sunrise Digital, an Inc. 5000 company established in 1988 and employs the most advanced equipment and technology, such as G7-certified HP Indigo and UV flatbed presses, and digital die-cutting, to create best-in-class products. A privately-owned enterprise, the company is based in Chicago and sells products worldwide.