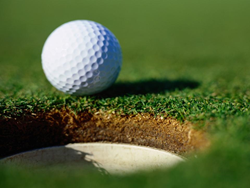 With declining players, reduced water and budgets, golf is looking for help and may have found it in Cheyenne Wyoming.
Houston, Texas (PRWEB) June 03, 2014
The golf industry is facing serious problems with declining players, reduced maintenance budgets, and the worst drought in the West that the US has seen in decades. However, one golf course in Cheyenne Wyoming reduced its water use by over 50%, saved over $100,000 and currently has the best course conditions in over 40 years. Cheyenne Country Club credits Turf Feeding Systems with this success.
Cheyenne Country Club (CCC) is a private golf course in Cheyenne Wyoming located in the high plains, 200 miles north of Denver. With an average annual rainfall of only 16.31" in Cheyenne, Matt Whalen, the superintendent at CCC has used a large amount of irrigation water through the years to maintain the quality of the golf course.
Mr. Whalen is a very dedicated superintendent and was looking for a way to reduce water use and improve the quality of his course. Whalen contacted Michael Chaplinsky, the president of Turf Feeding Systems, Inc. a Texas company, to discuss ways to implement his principles of sustainable golf at CCC.
Michael Chaplinsky is a world leader of implementing sustainable principles to reduce water use, maintenance costs and improve quality of soil.
Together, Michael Chaplinsky worked with Mr. Whalen to follow sustainable principles, which promote plant and soil health.
Mr. Chaplinsky states, "soil health is the secret to success, because it produces a healthy plant with deeper, denser roots. A healthy plant is more efficient and requires less water, fertilizer, labor, and energy, with better quality."
Mr. Whalen started last spring using Turf's fertilizer injection system connected to the irrigation system to inject high rates of organic nutrients through the irrigation to feed the plants and soil. Whalen also applied compost, by broadcasting, to the entire golf course to build the soil biology and create a soil that is alive and healthy.
Chaplinsky notes that "this dynamic new practice is shunned by the chemical industry because it reduces the need or use for chemical fertilizers, pesticides and fungicides. Turf's innovative solutions go against their business practice of selling a chemical to treat any problem, much like the pharmaceutical industry sells a drug for any medical problem."
Mr. Chaplinsky also states, "a healthy plant needs less fertilizer or pesticides, much like a healthy person who does not smoke and is not overweight needs less medical assistance."
Matt Whalen, a now very happy golf course superintendent turned Turf client states, "this sustainable golf program is stupid simple and we are embracing how easy it is to maintain". He reduced his operating budget by over $100,000 in 2013 and has the best quality course he has seen in over forty years.
Matt was stopped on the golf course recently by an older club member, who wanted him fired five years ago. Matt was worried what he would say, but the member told him the quality of the golf course is the 'best it has been in the last 43 years he has been a member' and thanked him. Matt was surprised and thanked the member.
Mr. Whalen said the quality gets more consistent each month and the course was greener later in the fall and greened up earlier this spring than ever before. Members were stopping him, asking what he was doing to create the dramatic change, and he would smile and say 'we are now a sustainable golf course'.
Mr. Whalen reports that he "gets calls from chemical salesmen and when they ask what [he] will need this season, [he] tells them the story and says 'no need for chemicals here as I am working with nature now'".
Michael Chaplinsky says, "sustainable principles bring nature into the process of maintaining golf courses, landscapes and agriculture. Healthy soil is a secret that builds a safe, healthy environment around the plant to grow healthy plants and crops. It is like turbocharging any agronomy needing less water, fertilizer, chemicals, labor and energy, while producing a better golf course, landscape or crop."
To learn more about Turf Feeding Systems and the company's Sustainable Golf maintenance practices, please visit http://www.turffeeding.com/
Bio:
Michael Chaplinsky – President / Founder Turf Feeding Systems
Turf Feeding Systems - Houston Texas – USA - The world leader in packaged fertigation systems (fertilizer injection into irrigation) for golf, sports fields, landscapes, resorts and agriculture.
Mr. Chaplinsky has worked for over 25 years implementing water efficiency and sustainability into all types of irrigated projects around the world. He speaks at many conferences and lectures on sustainable soils, landscapes, golf and agriculture.
Mr. Chaplinsky has worked with the top scientists and engineers on project that include construction, revegitation, bio-remdiation and beach erosion. He brings technologies and practices together to promote plant and soil health, and create the values and benefits of sustainability.