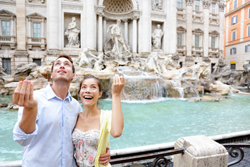 Rockville, MD (PRWEB) June 03, 2014
With graduations and marriages often comes an increase in joint credit applications, and while co-signing for a new car to embark on a career or a home to start a family can mean a wonderful opportunity for people taking advantage of joint credit, it's vital that they and their co-signers know up front that joint credit also means joint liability and responsibility.
The key is to make sure that both parties have a thorough knowledge of the advantages — and liabilities — of using credit. It all comes down to making sure both parties fully understand their responsibilities and act accordingly, says OpenSky. Knowing what goes into a credit score is the first step to practicing behaviors that have a positive, rather than a negative, impact.
"When two parties are involved, it should mean double the vigilance," says OpenSky President Nick Bryan. "It's critical that both you and your co-signer are aware of the right ways and the wrong ways to use credit."
Behaviors that affect credit scores can be both obvious and not-so-obvious, Bryan cautions. "The two key factors that make up nearly two-thirds of your credit score are payment activity, which accounts for approximately 35% of your score, and credit ratio, which accounts for nearly 30%. So clearly, it's important to stress paying on time and avoiding maxing out balances. But there are other factors — unpaid medical bills or traffic tickets, cell phone and gym membership plans, and even banking activities like opening checking accounts — that can give your credit score a hit."
"Like any other major commitment in life," says Bryan, "you've got to do your due diligence. With joint credit, do it times two. Once both parties are clear on the rules and responsibilities, joint credit can be a tremendous credit-building opportunity." To find out more about OpenSky, visit http://www.openskycc.com.
About OpenSky:
OpenSky is a business line of Capital Bank, N.A., a full service commercial bank in the Washington, D.C. metropolitan area. A top-ranked bank based on performance, it is the only bank in Maryland and Washington, D.C. to make the American Bankers Association Journal (ABA Journal) list of top 100 performing community banks in the class of over $100 Million in Assets. With nearly $500 million in assets, Capital Bank offers a full range of banking services including cash management, commercial lending services, residential mortgage and consumer credit. For more information about the Bank, visit http://www.capitalbankmd.com. Member FDIC. An Equal Housing Lender.