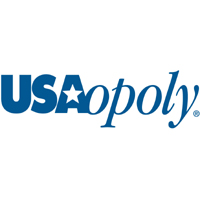 'The clincher was their superior knowledge of the buyer's perspective, and how we could leverage that to better analyze our data' - Tim Zlotnicki, EDI/POS Analyst at USAopoly
New York, NY (PRWEB) June 03, 2014
USAopoly, a leading developer and manufacturer of board games and puzzles, has engaged Enhanced Retail Solutions (ERS) for their Retail Analytic, cloud based offering, Retail Synthesis and Best Practices. ERS is a top provider of Retail Analytic and Demand Planning solutions to manufacturers, licensors and their retail partners. ERS Clients use the software to analyze product sales and trends as well as to better forecast their inventory needs.
With Retail Synthesis, suppliers can more easily become involved in the management of their own lines at the retail level and track their products through their entire retail lives. In a few simple steps, this software provides in-depth reporting on an individual sku's inventory, sales and projections – right down to individual store locations at a retail chain. Custom reports can be saved and automatically emailed. Customized Dashboards can be saved as well and are automatically updated with the latest sales data. Best practices-the ultimate planner's toolset- provides actionable reports and functions including Demographic Profiling, Store Performance Ranking, Inventory-Sales Ratios, Turnover, Trend, Store Execution, Door Level Lost Sales, Opportunity/Liability by door or store cluster and more – that can be generated in a few clicks.
"We switched to Enhanced Retail Solutions for our Point of Sale (POS) gathering and presentation because of the greater flexibility, ease of use, ability to upload our own data and the larger variety of reporting and analysis tools than our previous provider had", said Tim Zlotnicki, EDI/POS Analyst at USAopoly. "The clincher was their superior knowledge of the buyer's perspective, and how we could leverage that to better analyze our data and be an even better partner with our customers. We are using the "Walk before you run" approach, and look forward to someday using the full suite of tools that ERS has in order to take advantage of their forecasting capabilities".
About Enhanced Retail Solutions LLC:
Enhanced Retail Solutions is a New York based software and consulting firm specializing in Retail Analysis and Demand Planning for the manufacturer and their retail partners. ERS' state of the art software tools and consulting deliver critical data quickly, easily and cost effectively, adding over one hundred million dollars to their clients' bottom line. ERS' broad customer base includes industry leaders in the electronics, consumer products, apparel, footwear, home textile, toy, home décor, home improvement, housewares, jewelry and food industries. For more information, visit http://www.EnhancedRetailSolutions.com.
About USAopoly:
USAopoly™ is a leading developer and manufacturer of board games and puzzles, producing the world's most beloved games "with a twist" since 1994. Their partners include multi-million dollar brands and licensors such as Disney, Nintendo, Microsoft, Cartoon Network, M&M's, BBC and Warner Bros. With the 2009 release of Telestrations®, named the #1 Party Game by Board Game Geek, USAopoly launched its original game business, which now also includes the award winning games Tapple®, CrossWays™, and Ratuki®. For more information, visit http://usaopoly.com/.