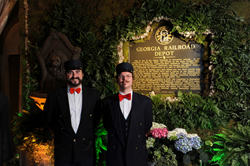 Offering enough entertainment and excitement for nearly five hours, the event combined the best of history and modernism to highlight the diversity that today comprises a Southern city.
Atlanta, GA (PRWEB) June 03, 2014
With three environments taking guests from day to night and outdoors to indoors, WM Events' latest corporate affair took place in a massive post-Civil War building in downtown Atlanta. Juxtaposing Old Southern charm with New Southern metropolitanism, the event welcomed more than a thousand guests who enjoyed three styles of barbecue, mint juleps and cigar rollers on the porch; a sultry indoor jazz club and a trendy hip hop dance party beneath dynamic hoop chandeliers. Offering enough entertainment and excitement for nearly five hours, the event combined the best of history and modernism to highlight the diversity that today comprises a Southern city.
A jazz quintet, costumed Southern greeters and pimento flavored popcorn welcomed guests to this modern Southern affair at Georgia Freight Depot. The venue's 90-foot porch and outdoor space, accented with vintage Southern styling, provided the first stop for guests. Partygoers sampled Texas Brisket, Carolina Pork and Memphis Chicken provided by caterer Affairs to Remember, then used clothespin ballots to vote on their favorite. Completing the party's homage to backyard Southern cuisine, Jim N' Nicks provided a whole pig on the pit. WM Events created a traditional Southern porch atmosphere with rocking chairs, romantic sheer drapery and Mason jar candle-lined railings for this unique, high-end corporate event. The band Love Cannon played pop hits from the 1980s in bluegrass style.
A customized living moss wall in the venue's front lobby transformed the space from a backyard barbecue into a Southern garden party. Costumed train conductors welcomed guests aboard for this extravagant affair. Elaborate drapery, comfortable traditional-style lounge groupings, and an over-the-top cherry blossom floral arrangement created a sleek lounge. Sexy gold and blue lighting set the stage for an intimate performance from iconic blues singer Francine Reed.
Stepping through to the interior Freight Room, guests experienced a transformation from romantic Southern styling to a chic modern vibe. As guests entered the main room, they were greeted with an 18-foot cherry laurel tree complete with swinging trapeze artists. The WM Events team fashioned the tree with a cardboard tube base and real cherry laurel branches decorated with lanterns. Moving through the room, the décor became cleaner and more modern. Sleek white and chrome furniture, glowing bars and food stations and 8-foot tall DJ risers created a hip Southern look. Guests were amazed as a 25-person flash mob erupted in the party, dancing to Quad City DJ's "C'mon 'N Ride It." Immediately following the dance, guests got a second surprise as desserts descended from the ceiling on two 20 ft. trusses. A DJ scratch-off and high-energy performance from Party Nation kept guests dancing well into the evening.
Party extras included a shabby chic photo booth made with wood pallets and magnolia vines and blossoms. In addition to the barbecue taste-off and aerial desserts, guests enjoyed Southern fare gone contemporary like Shrimp and Grits, Lobster Mac n' Cheese and Salmon Succotash. This unique corporate event was a true celebration of Atlanta.
About WM Events
WM Events was founded in 2004 by award-winning designer, planner and consultant William Fogler. With offices in Atlanta and Denver, WM Events is a full service event planning and design firm that handles corporate events, high-end social affairs, weddings and any other sort of intimate or monumental happening. WM Events is located at 767 Trabert Avenue, Atlanta, Georgia 30318 and can be reached at 678-251-6363 or visited at http://www.wmevents.com.