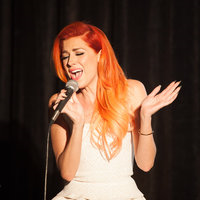 Stirring testimonials from the families who were honored brought the crowd to their feet many times.
Los Angeles, CA (PRWEB) June 03, 2014
RaiseAChild.US's second annual HONORS gala, with the theme "Sharing the Stories of Our Families," on May 18 at the W Hollywood Hotel received rave reviews and engaged more than 300 attendees. The inspirational brunch honored individuals and families for their advocacy on behalf of fostering, adoption, and inclusive families. Stirring testimonials by the families who were honored brought the enthusiastic crowd to their feet many times. Tony Award winning actor Denis O'Hare and his husband Hugo Redwood were among the honorees, as well as Noah Michelson, executive editor of the Huffington Post Gay Voices.
Other guests of honor included actors John McCook, Alec Mapa, Joely Fisher, Sheryl Lee Ralph, Ed Begley, Jr. and Dr. Caitlin Ryan. Singer and Grammy nominated songwriter Bonnie McKee's performance stunned the crowd with her amazing vocal talent. McKee has co-written eight No. 1 hit singles, including "Teenage Dream," "Roar," "Last Friday Night (T.G.I.F.)," "Wide Awake," and "California Gurls" for Katy Perry.
Fifteen-year-old Jordan Montgomery spoke with great emotion about his Mormon family's journey to acceptance of his sexual orientation and advocacy in the church on behalf of LGBT people. Seventeen-year-old Chris, a local foster youth, spoke about his wish for a loving home, no matter what the sexual orientation of the parents.
RaiseAChild.US is the only national nonprofit organization that encourages the LGBT community to build families through fostering and adoption to serve the needs of the 400,000 children in the U.S. foster care system. Among the services offered by RaiseAChild.US, its unique Parent Advocate Program provides information and ongoing support via phone or email to prospective parents as they move through the process from orientation and training to matching and placement.
"Our RaiseAChild.US HONORS gala exceeded our goals raising awareness of the plight of foster children and building enthusiasm for promoting fostering and adopting in the LGBT community," says RaiseAChild.US founder and CEO Rich Valenza. "In addition, this year's donors were generous, helping us deliver the outreach and programs needed to serve RaiseAChild.US's mission."
"We are so proud of this year's list of honorees, including Wendy and Tom Montgomery, the Mormon parents who became activists in their church after their young son came out as a gay," he continues. "When we told their family's story in our RaiseAChild.US Huffington Post Gay Voices 'Let Love Define Family™' weekly series, it quickly went viral, generating over 50,000 Likes."
The list of corporate sponsors for the RaiseAChild.US HONORS event included HBO, New York Life, Smirnoff, Southwest Airlines, and JetBlue. Turkish Airlines and W Hotels collaborated to create the premier package for the RaiseAChild.US "Travel the World" live auction. It included two round-trip Comfort Class tickets on Turkish Airlines to Istanbul, a three-night stay with breakfast at the W Istanbul, and then continuing air travel to any one of Turkish Airlines more than 240 destinations around the world.
According to the U.S. Department of Health & Human Services' Administration for Children & Families, there are 400,000 children in our nation's foster care system. More than 104,000 of these children are available and waiting to be adopted. Families certified for either foster or adoptive placements are in short supply.
RaiseAChild.US campaigns welcome and support prospective LGBT parents while putting images of LGBT families into public spaces through PSAs, print media, and outdoor advertising. Since 2011, RaiseAChild.US has engaged more than 2,000 prospective parents nationally and become a leading organization for public education and advocacy on behalf of the 400,000 children awaiting foster and adoptive homes.