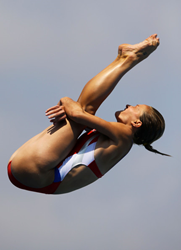 Making a splash on both national and international diving circuits, Deidre is hopeful to make the Olympics.
Cedar Rapids, Iowa (PRWEB) June 03, 2014
Eco Lips, America's favorite eco brand of organic lip balm, welcomes Deidre Freeman to Team Eco Lips. A native of Grinnell, Iowa, Deidre is a professional diver with a long list of accomplishments. In 2013, she placed 1st in 3-meter and 2nd in 1-meter at the World Championship Trials, and 1st in 3-meter and 2nd in 1-meter at the AT&T National Diving Championships. Making a splash on both national and international diving circuits, she is hopeful to make the Olympics.
According to Steve Shriver, CEO of Eco Lips, "We're excited to have Deidre on our team! Her fierce and focused drive for success, eco-lifestyle and warm and friendly demeanor makes her a great fit for Team Eco Lips."
"Working with Eco Lips is a natural for me! We both claim Iowa as our native turf and we share a commitment to a natural and organic lifestyle that supports the earth and its people. I recently visited the company in Cedar Rapids and found them to really embody the values that are integral to their mission and vision," notes Deidre.
When asked which Eco Lips organic lip balm is her favorite take along to competitions, Deidre was proud to report, "Mongo Kiss Peppermint – in the water and out, it's a champion."
Deidre will be competing in the 2014 AT&T USA National Championships in Knoxville, Tennessee August 12 - 17. The event will feature 125 of the best divers in the United States, vying for 10 national championships.
Deidre's Team Eco Lips profile can be found here: http://www.ecolips.com/team-eco-lips-deidre-freeman. Find Deidre's full story here: http://www.deidrefreeman.com/.
About Team Eco Lips
Team Eco Lips is a community of athletes, artists and activists who live a healthy, eco-active lifestyle. Because they strive to be the best in their field while being connected to Mother Nature, they demand the best products that help them perform. Eco Lips is their lip balm of choice.
Eco Lips manufactures the highest quality certified organic and fair trade lip care products on the planet. In addition, the company offers private label and contracting manufacturing services with a wide variety of options. Eco Lips initiated Iowa's largest solar power project which is powering the neighborhood in which Eco Lips is located. The company is a Certified B Corporation. To learn more visit http://www.ecolips.com or call 866.326.5477.
###