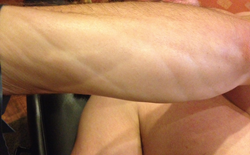 'The surgery does not make you better.' - Tommy John
Manhattan Beach, CA (PRWEB) June 10, 2014
Ashley Black, founder of FasciAnatomy, is alarmed by the increasing number of MLB players undergoing Tommy John's surgery. A Bleacher Report article reports that 1/3 of pitchers undergo Tommy John's Surgery to repair the UCL, or Ulner Collaterated Ligament. This is a staggering number that has baseball scratching its head and looking to a medical industry that is citing "overuse" as the cause.
There is no doubt that anyone who participates in any activity over and over using the same motion will challenge the body more than someone who doesn't, but Black explains, "Overusing any body part is only injury causing when the overuse occurs with micro-compensations. Pitchers may not even be aware that there is a problem with their fascia or alignment, but these tiny problems become big when the arm is used over and over slightly wrong." Black goes on to say that the micro-compensations are usually caused by fascia, the soft and connective tissue, and go undetected until pain is present. "Tight fascia cannot be seen with an MRI, so it goes undetected as a root cause. The fascia has to tork and close the joint before it will swell or begin damaging the UCL."
Fascia is the head to toe, arm to arm, inside-out connective tissue. It divides our muscles and penetrates them like the internal skin of an orange. It also surrounds virtually every structure of the human body. Black explains, "For an athlete, particularly those who perform full body and repetitive movements such as pitching, having loose and responsive fascia is a must."
Once the UCL is torn, the only option is surgery. Most players, however, have plenty of warning signals before this happens. They may feel 'tight' like they can't get warm, achey-ness after pitching, or swelling. Treating fascia at this point is still reactionary. If players would focus on the fascial health of their throwing arms before any discomfort is present, they could avoid the condition altogether. It is important to address fascia as part of the daily program, because the pitcher will just continue to throw around the problem, sometimes not even being aware of it. It is the compensating after compensating that "changes the mechanics and eventually stresses the joint to the point that the ligament fails," Black expands.
Black explains that she is often asked by her MLB players, "Why didn't my doctor know this?" The simple answer is that they are not trained in fascia and mechanics in institutional schooling. Doctors are also not usually involved until they are challenged with fixing the problem, as best they can, once symptoms become present. All-Star pitcher, Steve Schmoll, who underwent Tommy John's surgery and is a Physician's Assistant, explains that self care is the responsibility of the athlete. In a report, pitcher Schmoll was quoted saying, "I think it's [the cause] not knowing all the preventative therapy to help prevent it from happening."
More and more athletes are becoming aware of self-treating their fascia.
Black even invented her own tool, The Fascia Blaster, to specifically address the fascia tissue. The Fascia Blaster is endorsed by many pro players and teams. Black says, "Athletes sometimes don't end up on my table until they have had symptoms, but once they know the science behind fascia and self-treating, they take the ball and run with it".
Black explains that avoiding Tommy John's is really not that difficult, it is simply a shift in thinking. "If you knew you could get in the sauna and rub The Fascia Blaster on your arm everyday and avoid an injury, wouldn't you do it? My athletes do." She goes on to say that the key is educating players, and that professional sports is "an old boy's club and sometimes slow to change, but getting better every day."
About Ashley Black
Ashley Black, founded FasciAnatomy™ in 1999, and is a renowned expert on the subject of fascia. After a flesh-eating bone disease left her disabled, she healed herself using self-treatments, and has devoted her life to helping clients and training practitioners worldwide. While her clients include celebrities, billionaires, and professional athletes, Black is on a mission to get her knowledge into the hands of everyday people. Her invention, the FasciaBlaster™, is an effective means of treating many common health issues, including pinched nerves, migraines, plantar fasciitis, arthritis, tendonitis, shin splints, carpal tunnel, cellulite, shoulder pain, sports performance, posture, flexibility, stress, sleep problems, strained muscles, entrapped fat, inflammation, and tennis elbow. Her website contains interesting content from the fascia perspective pertaining to virtually any topic concerning the human body.