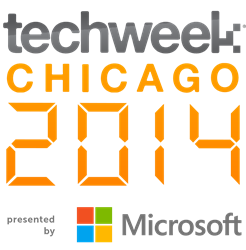 Chicago, IL (PRWEB) June 03, 2014
Techweek, the nation's leading technology conference and festival showcasing, celebrating and enabling emerging innovation ecosystems, today announced Microsoft as the 2014 Techweek Chicago presenting sponsor. Techweek Chicago is the largest Midwestern technology conference dedicated to bringing together entrepreneurs, visionaries, influencers and thought leaders under a single 7-day "big tent" on June 23-29, with the conference and expo on June 26-28 at the Merchandise Mart.
As a presenting sponsor of the conference, Microsoft brings global experience and visibility as a preeminent presence in the technology industry. Their focus on developing accessible and inventive technology is in line with Techweek's mission.
"Techweek is proud and excited to be partnering with Microsoft in 2014. We fully integrate our brand with that of our Presenting Sponsor, and Microsoft is a perfect fit as a company that is growing, evolving, and constantly pushing the boundaries of innovation," said Iain Shovlin, Chairman of Techweek. "We are excited to showcase the groundbreaking technology being developed by Microsoft that will have a lasting impact in Chicago's tech community and far beyond."
The sponsorship is a significant milestone for Techweek Chicago and is indicative of its growth as a platform for tech innovators in the local ecosystem but also in the power of connecting companies with major influential tech giants.
"Microsoft is delighted to partner with Techweek and the Chicago tech community. Chicago and Microsoft share many positive traits – creativity, ability to adapt, and building products that have and continue to shape the globe. It was that spirit that drew us to Techweek Chicago – the willingness to leap to fundamentally change ourselves and hopefully the world," said Stefan Weitz, Director of Search at Bing.
Techweek Chicago kicks off on Monday, June 23, with the conference and expo on June 26-28 and will feature a startup LAUNCH Competition, technology Hiring Fair, Hackathon, FashionTECH Runway Show, Gamers Lounge, a music festival and more than 50 speakers including:

Jeff Hoffman, Founder of Priceline and Partner and Co-Founder of ColorJar
Kathryn Minshew, Co-Founder and CEO of The Daily Muse
Josh Tetrick, Founder and CEO of Hampton Creek
To learn more about Techweek Chicago or to register, visit http://techweek.com/chicago.
About Techweek
Techweek is a seven-day conference, expo and festival where entrepreneurs, tech visionaries and thought leaders meet to enable the innovation ecosystem in the cities of Chicago, Detroit, Los Angeles, Miami and New York. Techweek curates compelling programming that allows a global spotlight to shine on each ecosystem and its leaders. Past speakers include Rahm Emanuel (Mayor, Chicago), Travis Kalanick (CEO, Uber), Craig Newmark (Founder, Craigslist), Barney Harford (CEO, Orbitz), Dan Gilbert (Founder, Quicken Loans), Peter Diamandis (Founder, X PRIZE) and Pitbull (World renowned musician). The Techweek expo has gathered more than 200 sponsors, including companies such as Google, Groupon, Microsoft, Motorola, Redbox, Uber and Wordpress. The after-parties at Techweek have become famous for events like the Bootlegger's Ball, attracting sports teams such as Stanley Cup Champions the Chicago Blackhawks and for hosting entertainers like Calvin Harris.
About Microsoft
Founded in 1975, Microsoft (Nasdaq "MSFT") is the worldwide leader in software, services, devices and solutions that help people in businesses realize their potential.