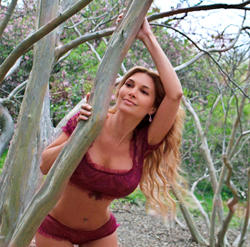 To people in general, I would say, don't wait until a tragic moment force you to change your life; decide to be happy and be happy, because happiness is also a decision.
New York (PRWEB) June 04, 2014
Sheyene Gerardi, the Venezuelan actress who has captivated audiences worldwide with her performance in Latin soap operas, is ready to return to showbiz after beating stage 4 cancer.
In 2007, the life of Sheyene Gerardi was paused after she was diagnosed with advanced lymphoma stage 4 and she was given three months to live.
"It was not easy but I took it with positivism. The mind is a very powerful tool in favor or against the human body. I received chemotherapy for 3 years... I feel like I broke a Guinness record. And far from feeling as a victim, I can say it was a great learning experience for me and I'm a truly transformed person after all this. I have much to be thankful for in life."
It's been five years since the actress began her chemotherapy treatment and is currently in remission. She always maintained a healthy appearance and did not even lost her hair.
With a personal memoir in the works, the beautiful actress focuses much of her time currently on the Sheyene Gerardi Fundation, as she is an advocate for children, a dire necessity to any child going without and hurting or in need.
Sheyene is currently living between New York and Miami, a city were she moved from Venezuela to be under treatment and where she begins a new life. Within her immediate plans are starting to analyze the proposed projects and resume her acting career. Sheyene said she would like to work in the U.S. because it became her new home and is a country where she has been welcomed with much warmth and has met very special people.
Sheyene has learned the power of not only positive thinking, but of the expression of gratitude and thanksgiving.
Beside the works of selflessness Sheyene Gerardi devotes herself to daily, by taking the time to read her blog at sheyenegerardi.net. you will observe an amazing mix of wonderful photography and beautiful words that pour from a heart filled with hope for a wonderful future and life; words of wisdom and love.
She is a woman worth knowing, with strong heart to write a book, interested in photography, art and travel. And as she describes herself: "With an addiction to only positive emotions."