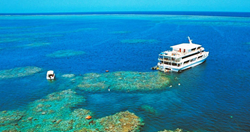 ...the excitement of an unusual destination doesn't have to be beyond a cruise passenger's reach.
Glendale, CA (PRWEB) June 06, 2014
The words 'cruise ship' can often freeze the heart of any adventurous traveller. Yet the excitement of an unusual destination doesn't have to be beyond a cruise passenger's reach. Throughout June, the long-range travel experts at Goway Travel are offering discounts on a wide range of cruise options exploring Asia, Latin America, Antarctica and the South Pacific.
Many globetrotters make the journey from bustling Saigon to the majestic temples of Angkor, but few see it from the Mekong River. Goway's 14-day Mekong River Cruise takes passengers to sights most Cambodia tours miss, including Kampong Chhnang and the temple of Wat Hanchey. This river cruise also takes in the region's three biggest stars. Ho Chi Minh City, also known as Saigon, hums with a rhythm and energy that's completely unique in Southeast Asia. Cambodia's capital Phnom Penh offers a fascinating – if sometimes sombre – look at the country's recent history, while Siem Reap is base camp for exploring the spectacular Angkor Archaeological Park. This trip includes 7 nights on the Mekong, with 2 extra nights each in Ho Chi Minh City and Siem Reap. Those who book by July 1 will enjoy special rates for travel between August 22 and September 30, 2014. Prices start at just US$3799 from Los Angeles, or CA$4159 from Vancouver, including round-trip airfare.
Few cruise vacations can match the natural splendour of a Great Barrier Reef cruise. These increasingly popular multi-day trips typically include daily dives or snorkelling (including night dives) along with most meals, comfortable cabins to suit all budgets and the guidance of an expert crew. Most take place aboard small vessels that accommodate a limited number of passengers, ensuring an intimate and memorable addition to any Australia vacation. Until June 30, Goway is inviting full-paying passengers 50% off their companion's rate on departures from July 2014 to March 2015. Goway is also offering 25% off expedition cruises through Papua New Guinea, the islands of the South Pacific and New Zealand, along with 15% off its unique Kimberley cruise, which opens the door on a very different side of Australia.
More cruising adventures await south of the Equator. Throughout June, Goway's Latin America division is offering 5% off its range of cruise options. Passengers can unleash their inner Darwin in the Galapagos, trek into the heart of the Amazon, or sail around Cape Horn to the Falklands and Antarctica. They might come face to beak with Blue-footed Boobies, see Pink River Dolphins at play, or visit the enormous penguin colonies that dot Antarctica's shores.
Goway's experts in this region can also take passengers north – far north! For a very limited time, guests can explore the North Pole on-board the world's only nuclear powered ice breaker. This vessel is retiring after 2015, making this cruise a truly exclusive experience. Guests who book by June 30 will be eligible for the 5% discount, saving over $2000 per person.
Since 1970, Goway has been providing unforgettable travel experiences to Africa, Asia, Australia and New Zealand, idyllic island destinations and Latin America. Today Goway is recognized as one of North America's leading travel companies for individuals, families and groups to select exotic destinations around the globe. Goway has offices in Los Angeles, Vancouver, Toronto, and Sydney (Australia).
For reservations and information, visit http://www.goway.com, or call your Travel Professional on 1-800-387-8850.