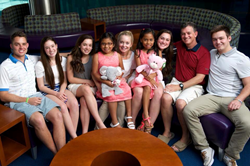 I think it is a great story of a mother never giving up to bring her adopted child home - Heather Radu.
Flint, Michigan (PRWEB) June 03, 2014
When Cinda Rachor's Delta Air Lines flight touched down here Saturday afternoon, it marked the end of an eight-year-long journey to adopt the daughter her family has known since the girl's infancy. Despite the politics and controversies that in recent years had eliminated most international adoptions from Guatemala, the Rachors refused to quit on the idea of bringing Amelia home.
That included hiring investigators to visit their daughter's native village in a fruitless effort to uncover information about her parents and family heritage. Since 2006 the Rachors retained four different attorneys in Guatemala before locating one willing to fully press their case with government officials and the American embassy.
"I feel overwhelming thankfulness to the Lord for putting so many pieces together," says Cinda, a homemaker and mother of seven. "No human mind could have done this. I am thankful to our attorney and our other six children, who have had to walk down a long road with a lot of disappointments. It was hard watching them experience grief, but they have been loving siblings."
Amelia spent the past eight years at Dorie's Promise, a home for several dozen children in Guatemala City. The orphanage is operated by Forever Changed International, a ministry based in the Portland, Oregon area. Originally placed in foster care, the agency overseeing Amelia's adoption intended to place her in a different facility while awaiting action on the Rachors' application. However, after Cinda learned about the quality of care at Dorie's Promise, she insisted the girl be transferred there. She persuaded founder Heather Radu to accept Amelia despite near-capacity conditions at the time.
"I think it is a great story of a mother never giving up to bring her adopted child home," Heather says. "Cinda never wavered in her fight to figure out how to get through any obstacle to assure Amelia would join their family. Watching this adoption completed reminds me that in the end, God is in control. Miracles happen when and where you least expect them. Hopefully, in the future we will see more children find their forever families through adoption."
Cinda and her husband, Jim—a dentist with a family practice in Fenton, Michigan—will celebrate their 24th anniversary on August 17. They have five children of their own, ranging from 21-year-old Steven to Annagrace, age 13. They adopted Amelia's younger sister, Hope, 7, from Guatemala six years ago through another U.S.-based adoption agency. One reason for their difficulties in adopting Amelia stemmed from a lack of documentation of her family ties. Despite the obstacles, Cinda says they kept going because they believed God had brought them together.
"We felt God had placed her in our lap," says Cinda, who credits her husband's influence with overcoming her initial reluctance to adopt. "You don't leave your daughter behind. We kept going to attorneys and asking them to be creative and to put pressure on the government and on the American embassy. Finally we met an attorney who said, 'If these kids are trapped in these orphanages and there are parents who want them, there's got to be something I can do.'"
By the time the Rachors met with officials at the American embassy last fall, they had amassed a three-inch-thick binder of documents. A separate photo album provided ample evidence of their continuing visits at Christmas, on Amelia's birthday and other occasions during the year.
Because of the way the staff at Dorie's Promise cared for Amelia, in 2008 Cinda and Jim started taking mission teams of teenagers from their church (Central Church of the Nazarene in Flint) to Guatemala twice a year. Cinda estimates they have taken 300 volunteers to Dorie's Promise, with some later returning as college students. In mid-June their youth pastor will take a group of 30 to Guatemala, followed the next week by a team assembled by the Rachors.
"They've caught a glimpse of what Dorie's is doing and how they are reaching out to others," Cinda says. "To see such unselfish service, like Christ offers, is an added blessing. Would I have chosen for Amelia to stay this long? Never. But God always brings gold out of ashes. Many times I cried, 'Lord, why is this little girl still not home?' He always said, 'She will be. Just trust Me.' We've seen how God always keeps His promises."
Located in Guatemala City, Dorie's Promise is an orphanage providing fulltime care, housing, education and other amenities for up to 40 children. The home operates on donations and grants, primarily from sources in the United States. It is operated by Forever Changed International (FCI), which is located in the metro Portland, Oregon area. Founded by Heather Radu, FCI is dedicated to rescuing orphans and providing them with a safe, nurturing environment. For more information, contact Radu at 360-335-3125 or e-mail heather(at)servewithfci(dot)org.