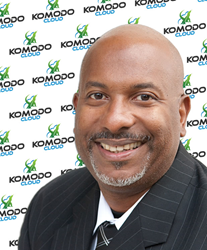 Rolling Hills Estates, CA (PRWEB) June 03, 2014
Komodo Cloud, LLC a leader in IT transition and transformation services for enterprises, SIs and ISVs, today announced the appointment of Cedric Higgins as the Technical Sales Account Manager. In this role, Higgins will be responsible for direct sales and customer management in Bay Area territory accounts, he also has responsibility for establishing and maintaining strategic accounts.
"We are pleased to welcome Cedric to Komodo Cloud, LLC and our rapidly growing business," said Eric Hughes, Managing Partner at Komodo Cloud, LLC. "The addition of a professional with Cedric's experience and expertise significantly boosts our ability to grow intelligently by hiring and retaining the industry's most talented sales professionals and providing superior technical advisory capabilities – all with the goal of delivering customer-centric solutions to our clients."
Prior to joining Komodo Cloud, LLC, Higgins was an Enterprise Sales Architect for a regional technology resell company headquartered in the Bay Area. Mr. Higgins' unique experiences and background include positions in IT management with Flywheel, Opt4 Derivatives, Medicalogic and Central Design Systems, where he was responsible for building complex, large scale, technical solutions and business automation solutions.
Earlier in his career, Higgins held the position of Test Center Director and Technical Editor for Advanced Systems Magazine, Advanced Systems was a technical trade publication focused on UNIX Enterprise Platforms and large scale compute servers. Advanced Systems Magazine was published by IDG.
"Komodo Cloud has developed a unique methodology for cloud services with its partners. I am excited to join this team of visionaries and bring these services to our clients," said Higgins.
Higgins lives in Union City California with his wife and two children and received his Bachelor of Science from Southern University, in Baton Rouge Louisiana. He holds technical certifications including Cisco CCNA, VMware VCP, and sales certifications from Citrix, HP, NetApp and Splunk.
About Komodo Cloud, LLC
Komodo Cloud, LLC a leader in IT transition and transformation services for enterprises, SIs and ISVs. "Born in the cloud", Komodo Cloud's business model provides tangible business value to its customers without the limitations, and undue influence imposed by technology manufactures. Komodo enables organizations to optimize their IT infrastructure and run IT like a business by delivering business transformation and transition services, managed and professional services, and IT products from top manufacturers via unique partnerships. The Company is headquartered in Rolling Hills Estates, CA with a satellite office in Chicago. For more information, visit http://www.komodocloud.com, 310.626.0463, or email info(at)komodocloud(dot)com.