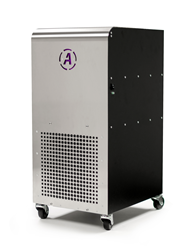 The Aero One is truly a game changer in the residential air purification market, there is no other system in this market which is proven to biologically eliminate all three types of air pathogens: viruses, spores and bacteria within an air stream.
Miamisburg, Ohio (PRWEB) June 04, 2014
Aerobiotix Inc. has invented a revolutionary biological air disinfection technology. The Aero One will be unique in the air purification market. At http://www.aerobiotix.com you can see the Aero One is more than just another air purifier.
Unlike standard physical air filtration systems, it uses a unique solid reactor system, which combines high powered ultraviolet light with a solid matrix of UV-transmissible lenses. This matrix creates turbulence in the airflow, which slows down microorganisms in the air stream, increasing the effective ultraviolet exposure and maximizes their elimination. The ultraviolet light of the reactor damages the DNA of microorganisms, killing them. This system was originally developed for the health care market by a physician who was concerned about the proliferation of antibiotic resistant organisms in the environment. This technology, termed 3D-UV, has been independently tested by the prestigious Research Triangle Institute has been proven to eliminate virtually all viruses, bacteria and spores within a high-flow air stream.
In addition to the unique reactor system, the unit also includes a two-stage prefilter, including odor-controlling carbon layer, and a true HEPA 99.97 post filter. The prefilter is important for trapping large particles and dust, and the HEPA filter is important for catching the residual particles of microorganisms killed by the reactor. These particles, even though dead and no longer infectious, can still contribute to allergies.
You can find the Aero One for sale at, Amazon,
Aerobiotix, Inc. is an emerging leader in the field of air disinfection technologies. The Ohio-based company designs and builds advanced air disinfection devices for the commercial, heath care and residential markets.