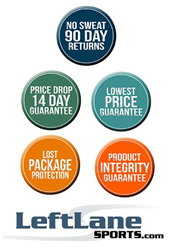 Our goal is to wow our members every day. We are developing member trust by offering the world's best brands at the best prices, all with service second to none.
San Luis Obispo, CA (PRWEB) June 03, 2014
LeftLaneSports.com, the largest members-only ecommerce site for endurance, outdoor, and action sports enthusiasts, recently launched an aggressive new Guarantees program aimed at delivering a superior experience for the site's members. The LeftLane Sports Guarantees provide a 90-day return policy, including the option for free return shipping or returns for refund. The new return policy is the most lenient of any members-only ecommerce site and stands out against most other companies in the sporting goods industry. Beyond the 90-day No Sweat Returns, the LeftLane Sports Guarantees also provide a 14-day Price Drop Guarantee, a Lowest Price Guarantee, Lost Package Protection, and a Product Integrity Guarantee.
LeftLane Sports prides itself on being a retailer dedicated to service. "Our goal is to wow our members every day. We are developing member trust by offering the world's best brands at the best prices, all with service second to none," said Erik Fialho, the company's co-founder and Chief Strategy Officer.
While some of the company's competitors compete on price and others compete on service, LeftLane Sports is winning the battle by crushing competition on both fronts. LeftLane Sports, which offers over 800 top tier brands, guarantees that its prices will be the lowest anywhere and is even willing to beat its own prices if they drop lower within 14 days of purchase. LeftLane Sports' Lost Package Protection also ensures a swift resolution to any order where the package doesn't get delivered due to the fault of the carrier or other circumstances. And since LeftLane Sports stands behind the high quality brands it sells, their Product Integrity Guarantee ensures that every product delivered will meet the highest standards expected by the company's members.
"We are excited to launch the new LeftLane Sports Guarantees. We started with a vision of providing high-quality service to our members, and we are expanding that promise today," said Fialho. LeftLane Sports broke the Flash Sale industry mold in 2009 by shipping orders within 1 business day (unlike others that take 2-4 weeks to ship orders). Today, the company is breaking down every barrier to purchase with its free shipping, free returns, and the new Guarantees. Such benefits to members are resulting in huge success for LeftLane Sports. The company has experienced explosive membership growth in the last four years, surpassing 5.5 million members as of May 30, 2014. This year, the company is also on track to more than double its revenue year over year."
About LeftLane Sports
LeftLane Sports is an exclusive members-only retail website offering premium Endurance, Outdoor, and Action Sports products at up to 70% off retail. LeftLane Sports operates the largest network of members-only retail websites in the sporting goods industry, including LeftLaneSports.com, Seshday.com, PlanetGear.com, TightLinz.com, and GearUp.ACTIVE.com. LeftLane Sports was founded in 2009 by industry veterans and friends, Helio Fialho, Maggie Bartels, and Erik Fialho. LeftLane Sports is headquartered in San Luis Obispo, CA.