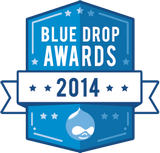 We appreciate all the support from the Drupal Community
Austin, Texas (PRWEB) June 03, 2014
The votes have been tallied for the third annual Blue Drop Awards and the team of volunteers is proud to announce 2014 winners. With over 200 website nominations, the community has voted and selected innovative, progressive and dynamic sites.
"We appreciate all the support from the Drupal Community," said Ben Finklea, CEO, Volacci. "The Blue Drop Awards were created to promote Drupal to the greater technology community and to recognize innovative, next-generation websites and the companies that built them."
Best Advocacy Site: The Los Angeles Conservancy. Developer: ThinkShout
Best Association Site: American Association for the Advancement of Science. Developer: Unleashed Technologies
Best B2B Site: Appnovation Technologies Corporate Site. Developer: Appnovation
Best B2C Site: Biscoff. Developer: Project6 Design
Best Mobile Experience: Zoological Society London. Developer: Catch Digital
Best Best Sports Site: North Carolina High School Athletic Association. Developer: DesignHammer
Best Education Site: Karolinska Institutet. Developer: Happiness
Best Entertainment Site: Budweiser Gardens. Developer: Digital Echidna
Best Fundraising Site: UNICEF Inspired Gifts. Developer: Jackson River
Best Government Site: Bay Area Rapid Transit. Developer: Appnovation
Best Health Care Site: MyHealth London. Developer: Reading Room
Best Marketplace/eCommerce Site: Hunter Boot. Developer: Isovera
Best Media Site: Viasat. Developer: Happiness
Best Non-Profit Site: Teach For All. Developer: Appnovation
Best Personal Site: David Motilla. Developer: David Motilla
Best Political Site: Unifor. Developer: Therefore
Best Religion and spirituality Site: Coastal Community Church. Developer: Albert C. Martin
Best Retail Site: Rockport. Developer: Appnovation
Best Social Site: MomsTown. Developer: Therefore
Non-Site Categories
Drupal Book of the Year: "Drupal 7 Explained: Your Step-by-Step Guide". Author: OSTraining
Drupal Event of the Year: DrupalCon Portland 2013. Organizer: Drupal Association
Drupal Module of the Year: Mobile sliding menu. Developer:
Drupal Website of The Year Site: Samsung Knox. Developer: Appnovation
To see all the nominees, please go to our http://2014.bluedropawards.org.