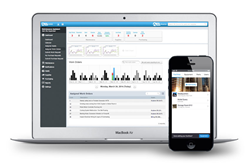 We've always believed that simplicity is the ultimate efficiency, which is why we've re-launched MA Free CMMS™ on our cloud platform.
Toronto, ON (PRWEB) June 03, 2014
Maintenance Assistant Inc, the innovative Cloud CMMS solution provider, announces the re-launch of MA Free CMMS™, now available as a cloud-based version of its flagship maintenance software MA CMMS™. "It's well established that good maintenance equals good business. A CMMS can help improve productivity, enhance product quality and lower the total cost of ownership of assets," said Marc Castel, CEO. "Unfortunately, a CMMS has traditionally been out of reach for many small- and medium-sized organizations, so we decided to make our CMMS accessible to every organization in the world, big or small."
"We want informed workers working in safer facilities employing smart, sustainable asset management strategies. This leads to efficient manufacturing and extends the life of capital assets, which is simply better for everyone; better for business, better for the customer and better for the environment," said Daryl Sedgman, President. "Climate change is now on the radar, and better maintenance practices, assisted by a CMMS, could be a big part of the solution."
"CMMS systems have the reputation of being expensive and difficult to use; a reason why so many businesses continue to rely on spreadsheets, paper and whiteboards," said Jeff O'Brien, Director of Customer Success. "We've always believed that simplicity is the ultimate efficiency, which is why we've re-launched MA Free CMMS™ on our cloud platform. We've designed it to be simple and effective. Our cloud maintenance management solution is an ideal opportunity for anyone to see how valuable a CMMS can be."
"With our CMMS, anyone can experience the product, the interface, and its value with no risk," said Don Scraper, VP Sales. MA Free CMMS™ has no expiry date and gives new users access to the CMMS tools they need to become more productive, including work orders, scheduled maintenance and inventory tracking. If a company needs to scale or needs more functionality such as machine integration, API, multi-site capabilities or purchasing, they can upgrade to a paid plan at any time.
"Our maintenance software has been architected to run on the MA CMMS™ cloud platform, where new users can be up and running in under 90 seconds," said Bob Kandic, Chief Software Architect. "There's no IT infrastructure cost, no firewall configuration and no security setup required by our users. All the heavy lifting is managed by our system. Users simply sign up and they're live in seconds, much like signing up for services such as Gmail or Facebook." To assist users with their implementation, the software comes with inline video tutorials on each screen so users can familiarize themselves with the CMMS as they use it. In addition, there is an extensive knowledge base, and one of the largest MRO databases in the world to help users find and add critical equipment information to their CMMS quickly and easily.
Maintenance Assistant hopes to change the way people perceive maintenance by giving them access to an intuitive and simple to use CMMS at no cost. "Deploying Maintenance Assistant CMMS in an organization can lead to greater equipment availability, lower costs and make maintenance budgets more predictable", said Marc Castel, CEO. "Our family of Enterprise Asset Management (EAM) products, under the MA CMMS™ brand, equip maintenance professionals, managers and ultimately the CIO with the information they need to build more efficient, safer and more environmentally friendly businesses, turning maintenance into their competitive advantage."
About Maintenance Assistant CMMS
Maintenance Assistant is a CMMS cloud solution used by thousands of asset-intensive organizations around the world to transform their maintenance operations, eliminate waste and costly downtime, and manage risk. Our flagship product, MA CMMS™ is a core business management tool used by maintenance managers, technicians, engineers, purchasing agents and business owners to streamline their maintenance operations and improve their bottom line. It helps maintenance managers get more organized by reducing their dependency on paper and memory, and automates many mundane daily activities. "Our mission is to be the global CMMS of choice by focusing on product excellence and an outstanding customer experience," said Marc Castel, CEO. "With feedback and input from thousands of customers around the world we've been able to build an award-winning Computerized Maintenance Management System (CMMS), which is now available as Software as a Service (SaaS)."
For more information please contact: jeffrey.obrien(at)maintenanceassistant(dot)com