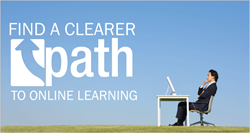 "We continue to make it easy for organizations around the world to leverage event-based content to transform their membership and continuing education initiatives."
San Diego, CA (PRWEB) June 04, 2014
Blue Sky Broadcast, a leading provider of online learning and virtual event solutions, today announced a partnership with event technology service provider PSAV to resell Blue Sky Path ™ to associations, corporate meeting and event planners. Path, a cloud-based learning management system (LMS), is specifically designed for media content from educational events. The Blue Sky and PSAV partnership will leverage the industry-leading technology and services of both companies to enable organizations to capture, publish, manage, and deliver event-based content to external and internal audiences.
"We've enjoyed a long-standing relationship with PSAV and today's announcement is an exciting step forward," said Philip G. Forte, Founder and CEO, Blue Sky Broadcast. "We continue to make it easy for organizations around the world to leverage event-based content to transform their membership and continuing education initiatives."
Blue Sky chose PSAV because of their exceptional reach into corporate and association-industry events and their history as a trusted partner for more than 1,600 events per day. PSAV has partnerships with more than 1,300 hotels and resorts as well as regional offices in 42 major cities across multiple countries. In North America, PSAV will be Blue Sky's exclusive distributor of Path™ Event LMS in the audiovisual market.
"PSAV prides itself on being a reliable local resource of hospitality professionals, technical experts and an extensive audiovisual inventory within the events industry," said Brent Rogers, Vice President, Digital Services at PSAV. "We have long admired Blue Sky's technology and know our customers will find the intuitive, easy-to-use, mobile friendly Path™ LMS drives engagement, creates new revenue opportunities and makes their meetings more memorable."
As part of the agreement, PSAV will also provide support and implementation services for Path™. Clients will now be able to entrust the deployment and adoption of their event-based LMS and content distribution platform to the same company that provides all of their audio and visual service needs.
Rogers added, "Blue Sky Path™ will be the preferred Event LMS offered to PSAV's customers. The ability to complement our content capture and AV services with Path will not only further solidify PSAV's status as the market leader but be an unbeatable combination for organizations looking to extend the life of their event-based content."
Blue Sky's Path™ transforms the event experience making it easier to for organizations:

Extend the life of your event's content and messaging to attendees and non-attendees
Deliver interactive and engaging content throughout the entire year
Convert valuable content into on-demand learning modules
Measure, analyze and optimize user behavior and content popularity
Drive new revenue and engagement opportunities
About Blue Sky Broadcast:
Blue Sky Broadcast provides clients a full range of learning technologies that include, Blue Sky Path™ Event LMS, our proprietary learning management system and a suite of event services. We help organizations capture educational content from live or virtual settings then manage and deliver that content to a global audience to create new revenue streams and deliver engaging content throughout the year. Blue Sky Broadcast is headquartered in San Diego, CA with satellite offices in Wisconsin, Washington D.C., Tennessee and Geneva, Switzerland. For more information, visit http://www.blueskybroadcast.com.
About PSAV:
PSAV provides legendary service and innovative technology to create memorable experiences for hotel partners, planners, producers and customers across the hospitality, corporate, association and special event industries. Combining local expertise with the broadest array of event technology, PSAV offers more resources in more places than any other audiovisual partner. Services include lighting, projection, virtual events, HSIA, mobile apps, power distribution, component video, special effects, staging, rigging, video mapping, concert sound, creative production, computer interfacing and traditional meeting equipment. PSAV employs more than 4,750 full-time, highly trained professionals in 1,300 destination resorts and hotels throughout the U.S., Canada, Mexico, Europe and the Middle East. http://www.psav.com