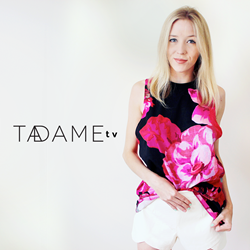 We're on a mission to better serve our customers and ultimately humanize our brand
Guelph, Ontario (PRWEB) June 04, 2014
In April of this year, Tadame Boutique launched its online fashion store, curating high quality star style pieces which include top Australian designers such as Cameo the label, Finders Keepers the label and Keepsake the label—to name a few.
Tadame Boutique's mini YouTube series—Tadame TV—has recently released its first short video titled "What to Wear to a Wedding". The first episode briefly goes over several key tips and trends to think about when styling your outfit for a wedding while incorporating designer dresses which can be bought directly from their online store.
In a cluttered and often times noisy e-commerce world, Tadame Boutique aims to take next steps by utilizing the social integration of video to expand its reach. "We're on a mission to better serve our customers and ultimately humanize our brand," says Kayla Slager, Head Fashion Babe. In these videos, Tadame Boutique will also answer customer questions and establish live Google Hangouts to provide educational tutorials on fashion, enhance community feel and allow its customers to connect on a more personal level.
As Kayla explains, "video is a very powerful tool and this kind of interaction is only going to become more and more important as companies think about the future of their marketing." A new episode will be released every Tuesday, available on their YouTube channel.
About Tadame Boutique
Tadame Boutique is Canada's online fashion destination for the bold and beautiful women we call stunners. (No really, they're total babes)
Tadame Boutique has a penchant for bold, fresh and trend-driven designers which can be seen through their unique curation of both Australian and Californian star style labels. With a focus on comfort dressing, statement prints and sporty detailing, their stunners give designer streetwear a new sexy.