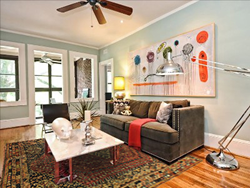 Charlotte, NC (PRWEB) June 04, 2014
A hot home decorating trend today is to place tradition Oriental rugs into modern décor. Their handmade quality, color variety, traditional tribal designs and natural fibers make them showpieces with heirloom potential. Designers choose them to tie together all types of modern décor styles with an artisanal element that has already passed the test of time.
Shopping for Oriental rugs for sale online opens the decorator to a global selection, like the one offered at http://adminrugs.com/ the web store of Magic Rugs Inc. of Charlotte, North Carolina. The store is operated by the Daryoushfar family and has been selling discount area rugs and traditional area rugs for 15 years.
"In dealing with customers I've noticed a rise in people wanting to put an Oriental rug into their modern decor," said Ellie Daryoushfar, co-owner of Magic Rugs Inc.
The company has 29 categories of designs from Asian ethnic groups famous for their distinctive patterns. Along with widely known Persian rugs, Magic Rugs Inc. has harder to find tribal styles like Agra, Bakhtiari, Kashan, Shiraz, Turkoman and many more.
Magic Rugs Inc. takes pride in selling authentic Oriental rugs that are handmade in the Asian countries where the designs and styles originated among ancient cultures. To qualify as an authentic Oriental rug, the area rug has to be woven by hand and have the pile knotted by hand.
Customers of this Oriental rug dealer that sells and ships discount area rugs worldwide are typically looking for a special conversation piece. They want something distinctive to set up a pleasing contrast with the modern elements of a home's décor.
Modern furniture looks even more striking alongside the historic luxury of Oriental rugs that have been valued through the centuries everywhere from nomadic tents to palaces. Often alive with vibrant colors, the traditional tribal patterns pick up on the colors and textures of the other modern elements in the room and bring them together into a thoughtful synergy.
"It's great to hear back when people like how the traditional area rug tied everything together in the room," Daryoushfar added.
Because authentic Oriental rugs are an important investment for the home, customers at Magic Rugs Inc. appreciate the company's commitment to a guaranteed lowest price. All the rugs the family sells are professionally cleaned and free of stains, damage, or odors. The experienced customer service team knows everything about each item in stock and can answer any questions about an area rug's origin, history, and materials.
Product listings at the AdminRugs.com website include this information as well. They also state how many hand knots per inch are in each rug.
To ensure that a customer is happy with how a traditional area rug looks in a room, buyers enjoy a 30-day money back guarantee.
When looking for a unique item that adds depth and meaning to modern home décor, designers find a wealth of inspiration in traditional area rugs. They satisfy customer demand for handmade and natural fiber items that are so trendy in home décor right now. They enrich a home's style with global cosmopolitan flair.
People near Charlotte, North Carolina can browse the collection at Magic Rugs Inc. in person by appointment. Call 704-763-1111 to arrange a time to visit the store at 658 Griffith Road, Suite 119 in Charlotte. And http://adminrugs.com/ serves a global clientele with a wide selection of discount area rugs, traditional area rugs, and Oriental area rugs for sale online.