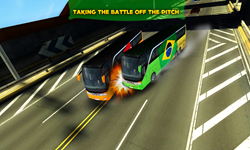 With each successful takedown money is earned which can be used to upgrade the national team's coach.
Amsterdam, The Netherlands (PRWEB) June 04, 2014
Lunagames today unveiled their World Cup-inspired racer Soccer Team Bus Battle - WC 2014.
The competition heats up and not just in the big stadiums of Rio the Janeiro and Sao Paulo. This year's World Cup will be won or lost on the treacherous highways of sunny Brazil.
Football Team Bus Battle - WC 2014 is available now for free on the Apple App Store, Google Play Store, Windows Phone Store, Amazon App Store and the Nokia Store (NokiaX).
The game can be downloaded for free here: http://app.lk/soccerbus.
View trailer: https://www.youtube.com/watch?v=xeSHMUgqMGU.
About Soccer Team Bus Battle - WC 2014
Oh no… The rival team has stolen the World Cup even before the tournament has ended. It is up to players to give chase, hunt down the thieves and claim victory for their nation!
This high-octane racing game will put soccer fans behind the wheel of their national team's player bus. The game is controlled with intuitive one-touch controls, but drivers will need to keep their heads together to navigate through heavy traffic. It is important to home in on the rival's team national anthem and collect precious soccer balls along the way. Fast racers will catch up to the enemy coach and ram it from the road to become the nation's hero!
Fair play?
With each successful takedown money is earned which can be used to upgrade the team coach. The bus can be reinforced with a heavily armored grille that increases crash resilience and ramming effectiveness, while aerodynamic upgrades will improve the vehicles' handling and top speed.
Other customization options include adapting the carriages' rims and colours. Furthermore, it is possible to add and change neon lighting underneath the bus. Players who crack enough soccer team buses can become the 2014 Soccer Team Bus World Champion!
Key Features:

High speed racing with intuitive one touch controls
All 32 national team busses and anthems are included
Adapt and personalise your bus to suit your new-found unsportsmanlike lifestyle
Stunning fast paced 3D visuals
Easy to grind bus parts and customization options, no in-app purchases required