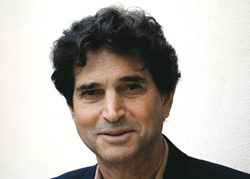 "The vast sums - $160 billion - already sunk into fracking have been a tragic diversion from real and effective solutions to global climate change." Robert I. Bell
New York, NY (PRWEB) June 04, 2014
A special panel, focusing on the growing awareness of hydrolic fracking's disappearing profits and decreasing ROIs, will be held Thursday morning June 5, 2014 (8:50am - 10:20am) at the Planetworkshops Global Conference, taking place in the 915-year old Royal Abbey of Fontevraud in France. Led by Professor Robert I. Bell, noted author and speaker on renewable energy investment, the panel helps reshape the debate on the viability and safety of hydrolic fracking and nuclear energy, by drilling down to the bottom lines of plummeting profitability and energy output in presentations to be made by distinguished experts, including: former French Secretary of State for Ecology; former Minister of Sports, Chantal Jouanno, former investment banker and Executive Director, Energy Policy Forum in Fort Worth, Texas, Deborah Rogers, as well as other leading international authorities.
Professor Robert I. Bell, noted author and speaker on renewable energy investment, will lead a panel on the increasingly-reported economic downside of fracking and the uninsurable risks of nuclear energy at the IXth Edition of the Planetworkshops Global Conference, to be held at the 915-year old Royal Abbey of Fontevraud in the Loire Valley, France from June 4 -5th. Last year, Bell co-authored a widely covered proposal, Project Volt Gas Volt, for the French energy transition from nuclear into renewables with former French Minister of Environment, Corinne Lepage.
While the debate on fracking, until now, has been framed as environmental protection versus growth and energy independence, this panel will discredit that conflict as a false dilemma. Expert panelists will report the actual financial and energy output results of fracking in North America, Europe and North Africa, showing they have fallen well below expectations.
Panelist and former investment banker Deborah Rogers will document how the major players are suffering huge losses, detailing her claims that: "The top 20 US shale companies have spent over $160 Billion since 2009 but have no free cash flow to show from their investment. The losses are staggering." French freelance journalist Sylvain Lapoix, will report on similar disappointments in shale operations in Poland and Algeria.
The panel will be held in the Haut-Dortoir and is titled "Nuclear and shale hydrocarbons : what part of uncertainty can we accept?" The full line-up is:
Speakers :

Moderator :

Mr. Robert BELL, Former Chairman, Department of Finance and Business Management, Brooklyn College, City University of New York (United States)
The key top players that drove the move to fracking have already been revealing their financial miscalculations. As early as July 26, 2012 EXXON CEO Rex Tillerson told the Council on Foreign Relations in New York "We are all losing our shirts today," according to a report in the Financial Times.
In August 2013, Shell Oil wrote down $2.1 Billion on its $24 Billion investment in North American shale oil and gas. Outgoing CEO Peter Voser said, "… you are hit with more than $3 bn of depreciation whilst you don't have the revenues against it… We expected higher flow rates and therefore more scalability for a company like Shell."
On May 20, 2014 the Los Angeles Times reported that the US government agency that details the statistics on recoverable oil in the US, the Energy Information Administration, wrote down its estimate on what was to have been the biggest prospect in the US, the Monterey Shale formation in California, by 96%, reducing it from 13.7 billion barrels to 600 million.
Professor Bell, who warned French opinion leaders back in 2012 in La Tribune and Les Echos, that fracking didn't pay, asserts, "The vast sums already sunk into fracking have been a tragic diversion from real and effective solutions to global climate change. $160 Billion could have paid for a massive number of wind turbines—maybe some 72,000 MW worth (maximum on land: $2.2 million per MW installed), producing, depending on how you want to add it up, electricity equivalent to the production of 20 to 72 current nuclear power plants."
The Intergovernmental Panel on Climate Change, the world's leading group of experts on the subject warns in its startling recent report[i] that "Clean energy will have to at least treble in output and dominate world energy supplies by 2050 in order to avoid catastrophic climate change… Currently fossil fuels provide more than 80% of all energy but the urgent need to cut planet-warming carbon emissions means this must fall to as little as a third of present levels in coming decades," as reported by The Guardian on April 12, 2014.
According to Bell, the money invested in shale gas and shale oil is leading to catastrophe since it simply puts more carbon in the air: "In their pursuit of the short term, i.e., the fast buck, the oil magnates and financial tycoons fracking for shale oil and gas are, perhaps inadvertently, perhaps callously, delivering us to droughts, fires, floods, disease, starvation, and wars, i.e., to what used to be summarized as the Four Horsemen of the Apocalypse."
About Robert I. Bell
Robert I. Bell, Ph.D. is professor of management and chairman of the finance department, Brooklyn College, New York. He is an internationally recognized expert on investments in green energy, and conflicts of interest in the energy transition. He is best known in France for his books The Green Bubble (2008); and Les péchés capitaux de la haute technologie (1998). He gave the green keynote address in 2009 at MIPIM in Cannes. In a 2010 keynote address at the G20 in Seoul, he proposed "Green Redemption Funds" as the energy transition, to finance saving the planet from global warming. To see video click here. He co-authored Madame Lepage's energy plan during her 2012 presidential election. For more information and speaking opportunities with Robert I. Bell contact Judith Jorrisch at projectvgv(at)gmail.com or 646-599-3550 or Robert I. Bell at 646-522-6469 or robertivanbell(at)gmail.com.
________________________________________________________________
[i] Climate Change 2014: Mitigation of Climate Change IPCC WGIII Contribution to AR5, p. 13: "Scenarios reaching atmospheric concentration levels of about 450 ppm CO2eq by 2100 (consistent with a likely chance to keep temperature change below 2 °C relative to pre-industrial levels) … are characterized by lower global GHG emissions in 2050 than in 2010, 40 % to 70 % lower globally."